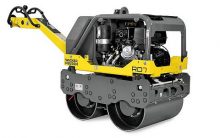 Compaction equipment packs down a variety of materials on the jobsite, such as soil, clay, sand and asphalt, to create a flat, even surface. If you're in Indiana or Michigan and want to temporarily add compaction equipment to your fleet, MacAllister Rentals can help. We carry a wide selection of Wacker Neuson rental equipment that will get the job done quickly and efficiently.
A Wacker Neuson compactor rental is the ideal solution if you've experienced a sudden increase in business, need to replace equipment that's undergoing repairs, or when you need a compactor only for a temporary period of time.
About Wacker Neuson
Wacker Neuson is part of the Wacker Neuson Group, a leading global manufacturer of top-quality construction equipment and lightweight, compact construction machines. You'll find Wacker Neuson products at job sites, including construction, landscaping, agriculture, recycling and beyond. WN compactors combine exceptional versatility and maneuverability with the power, performance and reliability required to keep projects on schedule and within budget.
Our Wacker Neuson Equipment Rental Lineup
MacAllister Rentals offers several types of Wacker Neuson light compaction equipment for rent:
Rammers: Rammers, also known as "jumping jacks," provide a high rate of impact that's ideal when compacting granular materials.
Vibratory plates: Vibratory plate compactors are walk-behind machines that work well when compacting asphalt and granular soil.
Walk-behind rollers: These rollers are available as single-drum units that are perfect for smaller compacting jobs, as well as double-drum models that can handle more challenging asphalt compaction tasks.
Trench rollers: Trench rollers are the best choice for compacting backfill in trenches containing granular soil.
You'll find these Wacker Neuson compactor rental offerings in various sizes and specifications to meet your project's unique requirements.
Why Choose MacAllister Rentals as Your Wacker Neuson Rental Equipment Source?
At MacAllister Rentals, you can always count on finding an extensive selection of late-model, low-hour machines in peak operating condition. You'll also appreciate our expert guidance and our fast, simple renting process that saves time and eliminates hassles.
We'll work with you to develop a flexible rental agreement that meets your company's requirements and fits your budget — whether you need a light compactor for a day, a week, a month or even longer.
You Can Also Purchase a New Wacker Neuson Compactor
MacAllister Rentals is a division of MacAllister Machinery, a leading provider of brand-new heavy equipment in the region for more than 70 years. If you prefer to own a new Wacker Neuson compactor rather than rent, we have a variety of options available for you!
Consider a Used Compactor
You can also own a hard-working and reliable Wacker Neuson compacting machine without investing in a new model. Take a moment to explore our selection of high-quality used products at competitive prices.
Learn More About the Benefits of Wacker Neuson Compactors From MacAllister Rentals
If you're ready to rent a top-notch Wacker Neuson light compacting machine or want more information, feel free to give us a call at 877-700-1945. You can also stop by a MacAllister Rentals store in Indiana or Michigan or contact us online at your convenience.