Before you decide to buy or rent a lift, you'll want to consider the safety of both you and your workers. Using aerial lifts incorrectly results in many injuries and deaths every year. To minimize the risk of injury, you and your operators must be educated and trained on the common hazards of construction equipment, appropriate safety procedures, and how to respond in the event of an emergency.
Ensure all necessary safety information is covered in your equipment training courses, including:
How to clean or deal with hazardous materials and situations. When an employee notices a safety concern, it makes the correction process more efficient if they immediately know what to do to remedy the situation. Faster action makes cleanup more efficient and keeps everyone safer.
How to inspect jobsites and equipment for potential risks. Spotting safety hazards before beginning work can drastically reduce safety incidents and downtime. All employees should be trained on what safety concerns to look for before they arrive at the jobsite.
How to avoid common dangers in the work area. It is vital to keep your employees safe by educating them about potential safety risks in their work environment.
Proper loading and unloading of hardware. The size and complexity of aerial lifts can make even setting up the equipment dangerous for inexperienced workers. All jobsite employees should be trained on best practices of unloading lifts to begin work and loading them back for transportation.
If it's been an extended period since you or one of your operators has used the equipment in question or if there has been a recent injury or accident in the workplace, retraining might be required. You can never be too cautious in ensuring the safety of your employees. An investment in safety training is not only an investment in the well-being of your workers, but also an investment in your business productivity and job efficiency.
For detailed safety inspections relevant to each type of aerial lift, refer to the following guidelines.
Electric Scissor Lift Safety Inspection Checklist
Be sure to follow a thorough process of inspecting your scissor lift before use:
Assess the condition of the scissor lift at the beginning of each workday. Look for any visible damage, signs of wear or rust.
Inspect the guardrail around the platform. Make sure the guardrail gate and safety chain are always in place during operation. Keep in mind that the guardrail and the extension arms of the scissor lift are dangerous pinch points. Take care to keep body parts, clothing and other items away from these areas.
Ensure operator knowledge of controls and safety procedures before usage. Go over emergency response procedures beforehand. If necessary, offer safety training either through a company-sponsored training session or a local college.
During use, make sure to watch for overhead hazards and obstacles. Look for power lines and trees when working outdoors, and check for pipes or other fixtures when inside.
Maintain three points of contact when entering and exiting the platform. Three out of four limbs should always be in contact with the platform or the guardrail of the lift to remain stable.
Make sure to inspect the jobsite itself. Look for any dangerous holes, obstacles or uneven ground. If any hazards are identified, make sure to avoid these areas when operating your scissor lift.
Before you wrap up your safety training and rent a scissor lift, double-check the condition of the scissor lift against OSHA's standards for general scaffolding. Most of the regulations for standard scaffolding also apply to scissor lifts, so this is an invaluable resource when ensuring the safety of your team.
Rough Terrain Scissor Lift Safety Inspection Checklist
Safety inspections for rough terrain scissor lifts are vital in keeping you and your employees safe. Because these aerial lifts are often used in harsher outdoor conditions, it's important to know what guidelines to follow:
Always set brakes on lock. Especially with the use of rough terrain aerial lifts, always ensure the machine is safely locked into position. Because rough terrain scissor lifts are used on uneven, sloping environments, you do not want to risk the instance of it falling over or shifting downhill.
Keep a safe distance from powerlines and wires. Rough terrain scissor lifts are typically used in outside environments. Therefore, keeping the machine away from hazardous wires will prevent electric shocks and power outages.
Avoid dangerous weather. Although rough terrain aerial lifts are designed for outdoor weather conditions, severe weather still causes safety hazards. Do not operate equipment in storms or highly risky terrains.
Never move the rough terrain scissor lift while in operation. No matter how small the distance, never operate a rough terrain scissor lift in an upright position. In many conditions, this action will cause the lift to tip over.
Personnel Lift Safety Inspection Checklist
Be sure to go over important inspection points before you use, buy or rent a personnel lift. These tips can ensure the safety of your employees and the reliability of your equipment over time. Consider the following safety points before using your personnel lift:
Personnel lifts should only be operated by trained and qualified workers. Failure to abide by this rule could result in a voided warranty or personal liability on your behalf.
Never modify a personnel lift. This is especially true when you rent a personnel lift from a third party. An exception can be made for modifications and upgrades that are certified or produced by the lift's manufacturer, but only if you own the lift.
Workers should never ride on the platform of the lift while it is in motion. If adjustments need to be made to its position, all occupants should exit the lift and remain clear until it has been moved.
Utilize the lift's outriggers and wheel chocks to provide additional stability. This is especially helpful when working on an incline, as these tools can be used to level the lift.
Designate responsibilities in the lift. If two workers are on an elevated platform at the same time, one should be designated to operate the controls. This prevents confusion and maximizes efficiency and safety.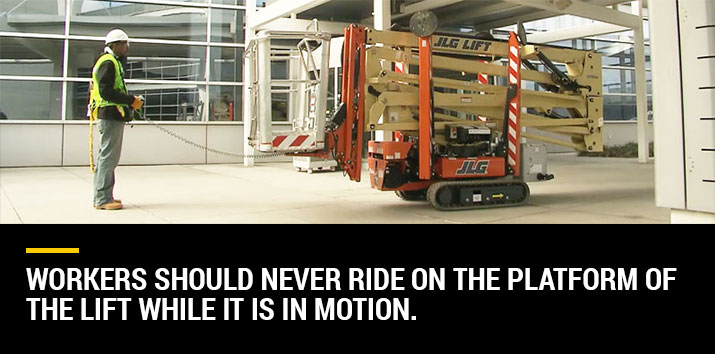 Many of these tips can apply to other lifts mentioned in this guide. Combine these tips to maximize safety and protection for yourself and your team.
Electric Boom Safety Inspection Checklist
Electric boom lifts are ideal for confined and side-to-side workspaces. Because these aerial lifts can hold different attachments, safety risks can increase. The following safety tips can help protect you, your employees and electric boom lift from hazardous situations:
Prior to use, electric boom lifts should be given a warm-up period. Test the lift's hydraulic system and lift control before operating. You should report and fix any malfunctions or unsafe conditions.
Never overload the lift's load capacity. Because electric boom lifts can only hold one person at a time, overloading it with people or tools can cause complications.
Secure all equipment on the inside of the boom lift. Electric boom lifts are often used for tight spaces and electrical work, so securing all equipment is essential. If anything snags on surrounding areas, it can harm you and damage other objects.
Give special attention to direction of travel, clearances above, below and on all sides of an electric boom lift. Confined spaces create the potential for more hazards and unsafe situations. Make sure the areas of operation are clear of clutter to allow for easy access of the boom lift.
Straight Telescopic Boom Safety Inspection Checklist
The straight telescopic boom rental is one of the safest lifts on the market to use and operate. The boom, rotating cab and wheels are the only moving parts, so there are fewer parts to be cautious of. All lifts should still be inspected before usage. Make sure to assess the following:
Double-check the tires before renting a straight telescopic boom lift. Before each use, ensure all tires are in good condition and inflated to match the specifications listed on the exterior tire wall. This ensures proper load balancing as well as fuel efficiency in gas-powered, self-propelled models.
Verify the fluid levels of all systems within the engine and the lift components of the unit. Repair any leaks immediately and before use. Verify the condition of the vehicle's battery and any charging units.
Limit your use of the telescopic boom lift to areas that are clear of tall or overhead hazards. The lift's inability to reach around such obstacles can be limiting and even dangerous in some environments.
Inspect the telescoping boom of the lift for any dents, rust or damage. If present, correct these issues before regular usage.
Never exceed the platform or bucket's maximum weight capacity. Make sure to factor in the weight of all workers, tools and materials for an accurate total.

Articulated Knuckle Boom Lift Safety Inspection Checklist
The presence of additional moving parts, such as the knuckle itself, makes the inspection process more complex for a knuckle boom lift. These points should be covered before you rent a knuckle lift and before each use:
Pay extra attention to your working environment, especially when outdoors. Winds over 25 MPH can tip or damage the lift. Additional caution is advised for the articulated knuckle boom, due to its extended reach and knuckle mechanism.
Ensure safety features are intact. Make sure guardrails are properly installed and are free of any rust, dents or damage. Close any access gates before lifting the platform.
Verify the position of any outriggers before operating the lift. When moving or repositioning, make sure the outriggers are in the stowed position. Outriggers should always be used when a worker is in the basket and extended to any height.
Take the time to inspect the boom fully before each use, especially the knuckle itself. Any visible damage or rust should be repaired immediately and before use.
Articulated knuckle lifts should only be used by a certified professional. The sheer size and scale of these lifts make them incredibly dangerous when operated by an inexperienced person.
Towable Boom Lift Safety Inspection Checklist
Safety inspections are not only required for the towable boom aerial lift, but also for the towing aspect of these machines. Refer to the following guidelines to ensure your safety:
Make sure entrance gate and openings are closed. It's imperative that the gate and other openings are closed to secure the operator and tools.
Use a body harness or a retaining belt. If you are not fastened to the towable boom lift, the potential of falling increases. Be sure you are safely attached to the aerial lift.
Always place the lift on solid ground. If the towable boom lift is placed on uneven or sloping ground, the lift can easily tip if its weight is off-center.
Use appropriate towing equipment. If your towable boom lift is not correctly hitched to a vehicle, it can become unattached. In this instance, the lift has potential to harm other drivers and bystanders.
Atrium Lift Safety Inspection Checklist
If you want to buy or rent an atrium lift, it's important that you're up-to-date on the potential dangers, safety mechanisms and emergency response procedures. This information will keep your lift running over time and could even save a life. Take note of these important details:
Safety guardrails should be fully intact around the work platform. These should be free of any rust and clear of any visible damage or erosion. Replace any worn or damaged sections immediately and before further use.
Double-check the condition of the lift's components and track. Make sure to include any stabilizers or outriggers, as they are critical to maintaining the lift's balance during normal usage.
Be aware of any overhead obstacles or potential hazards. Hidden dangers may not be visible from the ground level — stay alert for possible issues as the lift moves upward.
Look out for excess rust, dirt or grease on any articulated joints. If rust cannot be removed, it might be time for a replacement or repair.
Verify the operability of control panels on the base and in the lift. Technical failures are typically a simple and affordable repair, but they can cause serious setbacks if left not identified before starting a job.
Check the fluid levels of the lift's engine and hydraulic system. The hydraulic system is responsible for moving the boom, so it's essential that these hoses and tanks are free of any damage or erosion.
Implement your own additional rules and guidelines for using atrium lifts on your jobsites. You can never be too safe! At MacAllister Rentals, we offer aerial lift safety resources. You can also check with local college campuses in your area for information on classes or training sessions they offer.

For further safety education and instruction, you may want to consider signing up for safety training at MacAllister Rentals or enrolling in a class at a local university.
---
Conclusion: Using Aerial Lifts to Complete Your Fleet
Now that you've read our guide, we hope you have a better understanding of the different types of lifts available. The information here is invaluable when navigating the world of aerial lifts, and we suggest referring to this guide or speaking with our team of professionals to make effective business choices.
Depending on the size of your company and the jobs you usually perform, it might be beneficial to rent lifts based strictly on your day-to-day needs. Those who find that they're renting the same lifts frequently would likely benefit from investing in a lift of their own.
Renting a lift is a great choice when trying to fill one-time needs, such as small construction projects around a home or property. In this case, the expense of an outright purchase can't be justified, so a rental is the better option. You'll then want to rent your lift from a reputable company like MacAllister Rentals.
Whether you're renting or buying, MacAllister Rentals can take your business to the next level. We rent equipment for short and long-term use and offer flexible options for companies whose equipment needs change often. The versatility of our equipment, our wide selection and numerous locations across Indiana and Michigan make us an excellent partner.
Our customers come from many different backgrounds, trades and industries. Regardless of your personal scenario, contact us for more information.