If you're working in a project-based business like the construction industry, you learn to keep a close eye on your bottom line. There are times when making a decision for construction equipment rental makes more sense than tying up cash in buying the same item. You can get the equipment you need without committing yourself over the long term.
This construction equipment rental guide will look at the current construction rental trends, as well as list some popular types of equipment available for rent. We will also examine the advantages to business owners of renting construction equipment. Finally, we will consider when it makes sense to rent or buy large construction equipment.
Jump to Sections:
Equipment Rental for Construction: An Overview of Current Trends
The recent global pandemic took its toll on many industries, including both residential and commercial construction. Projects which were slated to start were brought to a virtual standstill. As the worldwide economy continues to improve, construction projects have come back on track. As a result, demand for heavy construction equipment has increased.
Renting Equipment Becoming More Popular
According to data gathered from a survey conducted by Purchasing.com, equipment rental has become a more attractive option for business owners and individuals looking to complete projects. The survey revealed that consumers in this market used multiple options to finance the heavy equipment they needed. Often, they would mix-and-match to find a solution that would fit their situation, such as renting before making a decision to purchase or renting.

The survey questions were answered by business owners, CEOs, procurement officers, and managers, In all, more than 70,000 responses were tallied. Renting heavy equipment surged in popularity by a rate of 400 percent.
The survey responses also indicated a definite trend toward equipment with the versatility to perform multiple tasks on the job site. Compact loaders are now being used whenever feasible instead of equipment capable of performing a single function only, such as bulldozers. For respondents interested in buying equipment, compact loaders jumped in popularity by 69.6 percent.
Why Rent Construction Equipment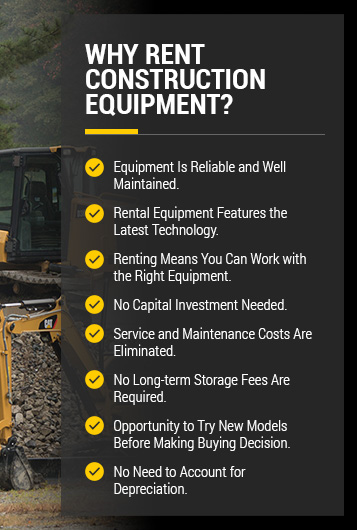 Renting construction equipment offers a number of advantages for your business, including the following:
Equipment Is Reliable and Well Maintained. The units available for rent are inspected regularly and the hours of use are tracked. All equipment that has logged high numbers of hours is rotated out of circulation and replaced. All construction equipment available for rent at any time is in good condition and ready to go to work.
Rental Equipment Features the Latest Technology. To stay competitive, the rental company offers its newer models featuring the latest technology. By choosing to rent the equipment you need, you and your crew get the opportunity to work with equipment with the latest features and benefits. As a result, you may be able to save time and money when completing your project.
Renting Means You Can Work with the Right Equipment. You won't be stuck trying to make do with your existing equipment on a job site; renting gives you access to a complete inventory at your disposal. Choose exactly the piece of equipment you need from Cat® and other quality Allied brands and get the job done right.
No Capital Investment Needed. When you decide to rent construction equipment, the only time you will incur an expense is when you need it for a job. You're not tying up cash flow on a regular basis paying for financing costs.
Service and Maintenance Costs Are Eliminated. These costs are the responsibility of the rental company. If something goes wrong while you are using a piece of rental equipment, you can simply arrange to return it for a replacement. The rental company is responsible for any repairs, as well as general maintenance on all of its equipment. You do not have to account for maintenance expenses in your budget for that piece of machinery.
No Long-term Storage Fees Are Required. Since you only rent the construction equipment when you need to use it for a specific job, you aren't responsible for the cost of long-term equipment storage for it.
Opportunity to Try New Models Before Making Buying Decision. Reading about a piece of equipment's features and benefits doesn't always give you the true picture of what it would be like to operate it on a job site. If you are in the market for new equipment, you can try out new models and get some "hands-on" experience before making your final decision about which one is right for your business.
No Need to Account for Depreciation. The full cost of renting construction equipment can be deducted in the year it is incurred, as opposed to you having to take a deduction for depreciation over several years if you decide to buy it outright. Depending on the total amount of this deduction, this could be to your advantage at tax time.
Which Construction Equipment to Rent
Here are some examples of construction equipment available for rent:
Backhoe Loaders. These heavy earthmovers are tough and strong. Weighing in starting at 22,000 pounds, they can travel at speeds of up to 25 mph to get you to your job site quickly. Backhoes can be outfitted with a truss broom, angle broom or forks, depending on the type of job you need to perform.

The cab has plenty of legroom for the operator's comfort. The air suspension seat can be adjusted to accommodate an operator's height and weight for a comfortable, all-day ride by using the height accommodation and switches provided. There is an adjustable seat cushion, and the cab is air conditioned for your comfort.
The machine is operated by means of simple, ergonomic joystick control. It allows you to get tasks done efficiently with little effort.
Bulldozers. Several models are available in sizes ranging from approximately 17,000 to 21,000 pounds and 73 to 96 net hp. You'll be able to find the right one to handle whatever size job you need to tackle.
The easy-to-read display panel displays vital information to the operator. Buttons positioned below the display panel allow the operator to set conditions for steering response, blade response and forward/reverse speed.
Excavators. When you need earth and other materials moved quickly and efficiently, count on an excavator to do the job for you. The hydraulic system provides quick, strong pivot turns through the use of a simple joystick. Available sizes range from 33,400 to 77,800 pounds. Mini-excavators weighing in between 3,640 and 17,290 pounds are also available for small jobs.

Motor Grader. The Noram 65E Series Motor Grader packs a number of features normally found in larger models into a 21' 7" package. With six forward speeds, an electronic shift control and a 53" diameter gear-driven circle with an "A" frame for 360-degree blade rotation you will be able to make short work of any job on your worksheet.
Multi-Terrain Loaders. This type of loader's rubber track undercarriage provides excellent traction and stability while minimizing ground pressure. The operator's cab features large removable windows for maximum visibility. The Multi-Terrain Loader is available in models ranging from 57 to 84 net hp.

Skid Steer Loaders. These pieces of equipment are compact enough for small businesses and individuals to use for a variety of earth-moving purposes. This piece of construction equipment is in demand for customers such as small construction firms, landscaping companies, and farms.

Available in a range between 57-78 hp, the Cat skid steer offers impressive traction and stability for any job you have in mind. The operator's station is all about comfort, from the adjustable contoured seat to the easy-to-use joystick.
Its universal work tool interface means you can add on the attachments you need for the specific job you are working on quickly and efficiently. Less downtime means you can focus on getting the job done.
Track Loaders. Choose from an open canopy or a track loader with a cab. Operating the loader only takes one hand, since a single joystick is used to easily control speed, direction and steering. General purpose and multi-purpose buckets are available, so you can choose the right configuration for the job at hand.
Wheel Excavators. Powered by a Cat engine, the wheel excavators can provide a powerful level of horsepower, excellent fuel economy and low sound levels. Its adjustable hydraulic sensitivity makes changing the attachments for your application a very easy process. Options for attachments are grapplers, buckets, quick couplers and hammers.
Wheel Loaders. The Cat VersaLink Loader Linkage has the strength and versatility to complete tasks quickly. It can be configured with pin-on work tools — such as a bucket, a Quick Coupler or a High Lift VersaLink — for when you need more reach and lift height. It will give you an additional clearance of 20 inches and is an ideal choice for jobs where you need more lift height for lighter loads. Wheel loaders are available in models with bucket capacities ranging from 1.7 square yards to 6.5 square yards.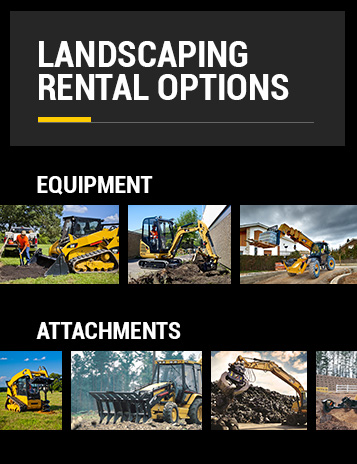 Landscaping Equipment Rental. Depending on the type of business you are running, you may not need to keep a full range of landscaping equipment on hand at all times, or at all. It can make more sense to rent the items you need on a per-job basis or supplement your existing tools for large or specialty jobs. During the busy season, you'll want to make a point of calling ahead to make sure that the equipment you need is available on the day(s) you are planning to use it:
Aerators
Chippers
Compaction Equipment
Edgers
Hydroseeders
Landscaping Tractors
Mortar Mixers
Overseeders
Paver Saws
Sod Cutters
Straw blowers
Stump Grinders
Tillers
Trenchers
Two Man Augers
Vibratory Plows
You can attach a number of different attachments to a small tracked or wheeled skid steer depending on the type of landscaping job you are working on:
Aerators
Augers
Bushogs
Harley Rakes
Grader Boxes
Grapple Buckets
Landscape Forks
Landscape Rakes
Pulverizers
Overseeders
Rock Hounds
Stump Grinders
Tillers
Trenchers
Consider renting a skid steer and the attachment together so that you know both pieces of equipment will be compatible and the job will not be slowed down due to the attachment not fitting the skid steer properly. Taking this step could end up saving you time, as well as money, in the long run.
Compacting Equipment for Rent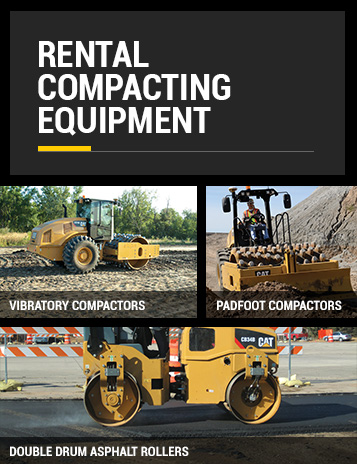 Vibratory Compactors. Cat soil compactors feature front and rear-facing working lights and standard rearview mirrors for safety. The operational gauges and steering console are adjustable so that you or your crew member can find the right fit for comfort during the work day, and the entire console tilts for easy entering and exiting the compactor. The compactor is operated with a single lever. A padded wrist rest is provided so that you or your crew member's operating hand doesn't become unduly strained during the work day. The cab (either open style or glass enclosed) is equipped with a rubber floor mat to reduce vibrations throughout the day and reduce operator fatigue during operation.
Padfoot Compactors. When you are working with cohesive or semi-cohesive materials, you will likely be looking for a padfoot compactor. Powered by a Cat 100 hp engine, you can rent a compactor that has the power to make short work of your project. An optional blade can be attached to the compactor, giving you the flexibility to knock down materials and handle backfilling without having to bring in a small bulldozer on the same project.
Double Drum Asphalt Rollers. These rollers are the perfect option for work on small jobs, or an easy way to access tight areas on larger jobs. Consider them for working on lanes, shoulders and other similar areas. Drum widths are available in 27.5"-47" widths, and is appropriate for contractors who add or maintain pathways in parks or recreation areas, alleys, roads, as well as driveways.
Rent vs. Buy Construction Equipment
Making a decision about renting vs owning construction equipment is one that you would not want to make without due consideration. There are definite advantages and disadvantages to both courses of action. Initial cost is only one of the factors you'll want to consider before making a decision. Along with this outlay, you'll also need to look at your company's current financial situation and future prospects. It pays to evaluate which method of bringing equipment into your business will bring you the most benefit.
Factors to Consider Before Making a Decision
Here are some of the factors you should consider carefully before making a choice between renting construction equipment and buying it outright.
Financial Stability. Look at your cash on hand and your capacity to borrow to finance an equipment purchase. Renting doesn't tie up your capital in the same way as buying a piece of equipment; however, if you end up renting several times over a relatively short time, the cost can add up very quickly. You can end up spending as much, or even more money on rental fees than if you had bought the equipment outright, so it's important to compare costs of each option carefully.
Rental Equipment is Not a Company Asset. While renting construction equipment gives you the advantage of not having to budget for maintenance and storage costs, it is not a company asset. If you decided to buy it, you would have the option of selling it and getting some type of return on your investment — even though the equipment will have depreciated over time.
How Often Equipment Will Be Used. Look at the number of signed contracts for work you have in hand and commitments that are likely to be signed that will require the equipment under consideration. Consider your schedule in the short term as well as over a longer period. If you believe that you will only need to rent the equipment for a short time or for a special project only, it may not make sense to buy it.
Amount of Lead Time Required. If you own your own equipment, you have access to it at all times. You are ready to use it on a job as required. In a situation where you are relying on being able to rent the equipment you need as projects come up, you may need to deal with downtime waiting for equipment you need to become available. Owning the equipment means you have the flexibility to deal with scheduling changes due to weather, customer add-ons or any other circumstances that may arise. A potential customer may see the fact that you own your own equipment as an advantage when making a choice about doing business with you, since they know you are fully prepared to complete the work at hand.
Length of Time You Will Need Equipment. In a situation where you know you will only need a particular piece of equipment over the short term (a couple of months or less), it makes sense to rent it. You can use it for a relatively short time and include the rental cost, as well as fuel and any storage fees, in your invoicing to your customer. However, if you find that you need the equipment longer than a few months or you are doing specialized work that requires a particular piece of construction equipment often, it may make more sense to buy it than to continue paying rental fees on a regular basis. If circumstances change and you are no longer getting calls from your customers to do similar work, you still have the option of selling the equipment and trying to recoup some money from your investment.

MacAllister Rentals is your one-stop shop for all of your construction equipment rental needs. We offer a complete line of quality products from Cat, as well as other Allied manufacturers. Our friendly staff is ready to answer any questions you may have. MacAllister Machinery also has used construction equipment available for purchase if you decide that buying is the best decision for you.