If you work in an industry that uses heavy equipment, you're aware that accidents occasionally happen. Any mishaps with big machines hold the potential to be dangerous and expensive. That makes it important to understand the liabilities and insurance obligations that come along with the capabilities of heavy machines.
MacAllister Rentals can gladly share information about how to reduce heavy equipment liability to help business owners, managers and operators. The more knowledge you gain about how to limit equipment rental liability, the better you can protect yourself and your assets.
Jump to Sections:

This work is licensed under a Creative Commons Attribution-NoDerivs 3.0 United States License.
Tip #1: Be Aware of What Can Happen
Accidents and damage can happen at any point of the construction process or during transportation between jobs. The best approach to insurance and protection is to prepare for the worst and strive for the best.

Investing a few dollars into insurance policies and specialized protection can provide business-saving coverage. People are quick to sue even in unfounded situations and some claims can be enough to sink a company.
At best, it could be a small mishap with a piece of equipment that costs a few hundred dollars. At worst, it could result in thousands of dollars in property damage.
This partial list should give you an idea of a few scenarios that play out regularly in many industries using equipment:
Operators are not properly trained for the machine they're using or are influenced by substances.
Improper selection of the machine, such as over- or under-sized, leads to accidents or poor quality.
Thieves or vandals ruin the work site and/or machines.
Equipment may catch fire or be lost or compromised in a flood, earthquake, hurricane, tornado or other natural disaster.
A subcontractor operates the equipment and has an accident that isn't covered.
A machine topples because its capacity is exceeded.
Hoisted items can blow around or slip and fall.
Equipment is operated on uneven ground or with insufficient footing and becomes stuck after a cave-in.
Machine inadvertently damages adjacent property and owners want compensation.
Equipment operator accidentally damages a public utility — for example, a water main or gas line.
In any industry where heavy equipment is used and rentals are a regular part of business, damage can happen at any point: in transit to the job site, while stored in a secured area or while working. Other contractors' employees may end up at the controls, uninsured drivers could hit it, and theft, vandalism or natural disaster are always possibilities.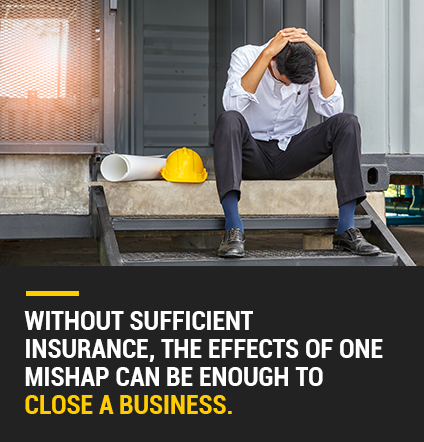 Without sufficient insurance, the effects of one mishap can be enough to seriously damage performance, or even close a business. Regardless of how costly the consequences, nobody wants the headaches and hassle of excess liability.
Is it possible to anticipate every possible scenario? Probably not, but you can get insurance that covers most possibilities. Insurance is part of the formula for longevity in business because it is the main tool that helps manage risk successfully.
Tip #2: Become Familiar With Rental Equipment Insurance
Any company that uses heavy equipment has some insurance and other coverage options available for protection. There are so many kinds of policies because so many things can happen — both predictable and random.
Whether a business rents or owns the equipment, the insurance considerations are similar. Each entity has a responsibility to protect its assets. The specific mix of protection policies and coverage depends on personal choice, availability and budget.
The basic recommended insurance coverages for companies using rental equipment include:
Commercial auto coverage includes company-owned vehicles as well as those that might be leased, rented or loaned. These policies can include everything from transmission and electronics to sections that cover lease and loan gaps for on- and off-road vehicles. Commercial auto insurance can come with safety training for drivers and operators.
General liability coverage protects the assets of a company in the event of a lawsuit that might involve personal injury, negligence, errors or omissions. It pays the claim up to a certain amount, as determined by client and insurance agent.
Inland marine coverage sounds like something you'd only need for sites along the coast, but it is property-physical-damage insurance. It's also known as a "floater" because it can be designed to cover items other policies do not, including rental equipment.
Property coverage may include such items as heavy equipment, computers, inventory, and work tools. Property policies can also be written to cover employee theft and damage. It's a coverage businesses can customize to their needs. No matter what business you're in, commercial property is expensive to replace.
Workers' compensation coverage kicks in when needed, which is normally when someone has been injured on the job and must have their expenses and salary paid. Workers' compensation is another protection for companies from the damages of lawsuits — again, up to a certain amount.
Umbrella and excess liability coverage pick up where regular liability insurance limits end. It protects a business from having to pay in the case of a significant claim. Theoretically, if you had a $1 million regular liability policy and someone successfully sued for $2 million, the umbrella and excess policy would kick in to cover the gap.
Along with the basic recommended policies are these several types of specialized insurance coverage:
Accounts receivable coverage pays to rebuild accounts lost to some mishaps such as theft or damage.
Business income coverage can provide some of the dollars lost to equipment malfunctions.
Cyber security coverage represents a safety net to catch any expenses related to an interruption in cyber security. For example, you might keep meticulous records on the equipment you rent, only to have them hijacked or trapped inside a crashed computer. The breach might be hackers, malicious software, data privacy issues or disgruntled employees that wreak havoc. In any case, it's expensive to resolve.
Loss of use helps recover some money when you're unable to use the equipment because of damage.
Management liability coverage includes several options for protection of an organization's leadership against liability claims.
Multinational coverage provides options for companies doing business overseas, whether it's one employee living abroad or a large-scale project site that needs a policy.
Property in transit may be needed if neither the rental company nor the renter has policies to cover any damage during shipment. If transport happens via a third party, ask if it has a policy that covers damage in transit.
Replacement cost coverage pays to replace a destroyed or stolen machine. It's worth asking about requirements, like whether you must get the same make, model and type of equipment.
Risk engineering usually means you will analyze risk and try to reduce your exposure to it. While the type of risk involved in each business may vary, the need to reduce it is universal.
In many cases, a rental company will want to see a business's certificates of insurance before it will rent them large equipment. It's common for reputable dealers to require their renters to have general liability insurance up to a certain amount. Another typical requirement is for the renting party to carry property/physical damage insurance that either covers the rental equipment or purchases supplemental protection.
Tip #3: Differentiate Insurance Coverage From Other Protection
It's important to recognize the key difference between insurance and protection policies. Some people tend to lump everything together as insurance or coverage, but there are distinct differences between insurance and other forms of protection from rental equipment liability.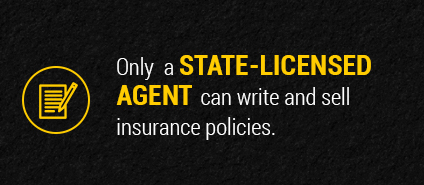 For example, the kinds of coverages discussed in Tip 2 are insurance policies. Only a state-licensed agent can write and sell insurance policies. There are other kinds of specialty protection offered by equipment rental companies:
Rental Protection Plans (RPP)
This puts a cap on the amount a rental client pays if something goes wrong with the equipment. Typically, it's a blanket plan that covers damage from accidents, loss from theft and sometimes the profit lost during downtime. The plan is also called rental equipment protection.
RPP terms will vary among rental companies but usually reduce out-of-pocket expenses to a small deductible or percentage of the cost for machine replacement or repair.
Loss-Damage Waivers and/or Limited-Damage Waivers (LDWs)
These are typically offered by equipment rental companies to protect the consumer from expense if the machine is damaged, stolen or lost to a catastrophe such as fire, earthquake or flood.
If the rental contract includes a rental equipment damage waiver, the loss or damage is covered by the waiver. If the contract does not include an LDW, the renting client will be responsible for the cost of the loss or damage.

An LDW is a good protection, but it's not insurance. Most LDWs only cover the machine itself — not any damage or injuries that result from an incident involving the equipment. Too often, rental companies presume contractors carry the insurance needed and contractors presume the rental contract or certificate of rental includes coverage.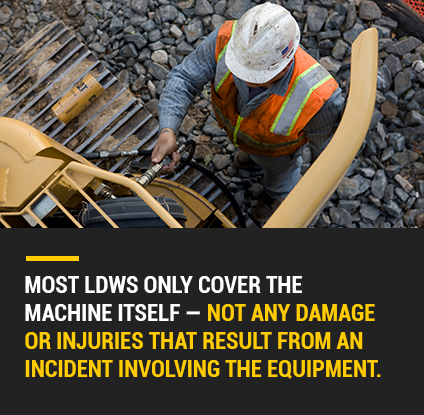 An LDW does not apply absolutely to all parts in every situation. It can have a number of these exclusions or other requirements:
Mysterious theft – and sometimes any theft – may be excluded from a rental-equipment damage waiver.
Gross negligence or abuse is often listed as an exclusion on loss-damage waivers.
Payment of a deductible is required with a limited-damage waiver.
A cap on the waiver dollar amount isn't unusual. The waiver pays "up to" a certain amount and then the renter is responsible for the rest.
Breach of contract can apply to situations like criminal activity, overloading or failure to properly maintain or secure the machine.
Damage to electronics or a motor due to a power surge is often excluded.
Damages to tires and tubes are not usually included in the LDW's covered damages.
These are a few of the common exclusions that have grown, unfortunately, from the need for rental companies to control their losses. Industry research has proven that some types of specialty protection such as an LDW or RPP can be perceived as a license to misuse or mistreat the machine.
The significant issue of such abuse has prompted programs for the equipment-rental industry that track renters and expose "bad apples" through statistics. In some of the more extreme cases, the potential data could be used as a basis to refuse service or sale of a waiver.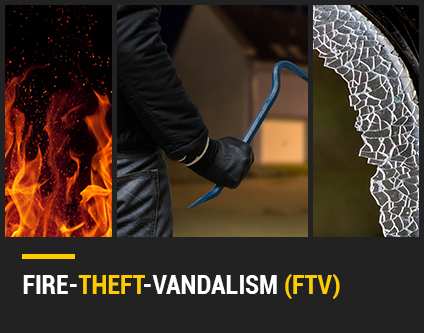 Fire-Theft-Vandalism (FTV)
This is also not insurance, but it will be required by many dealers instead of property-physical-damage/inland marine coverage. It covers the cost to replace or repair the equipment in the event of natural disaster and theft or vandalism from a secured location.
Tip #4: Match the Equipment to the Job
It's crucial to use the right equipment for the job. Selection of the right machine affects performance, efficiency and capacity. That, in turn, touches the schedule and profit margins.
The most successful companies use a set of standards or criteria to guide equipment selection. The standards are normally part of the site-preparation plan or incorporated as a part of project management.
Having the equipment selection criteria in writing helps protect you from liability. For example, when project decisions are questioned or even legally challenged, savvy businesses can point to the standards used and history of success using them. They're able to illustrate that the equipment was right for the task and the operator trained correctly for it.

For a few hypothetical examples, you wouldn't want to rent a 45-ton articulating truck with a 34-yard capacity when a 26-ton truck with a 20-yard capacity will do the job, or vice-versa. It adds to job efficiency if you're precise in calculating horsepower and factors like excavator bucket capacity.
Another common mistake could be renting a wheel loader when a tracked loader would best suit the job site or vice versa. Nobody wants to rent their aerial equipment and get started at the job site only to realize it doesn't reach the target height or won't carry the load.
Tip #5: Ask About Adding Subs to Policies
Whether you rent or own the equipment, its insurance policy needs to specifically state the coverage of subcontractors who may operate the machines. In most cases, insurance policies don't automatically cover subs.

Experts advise that, ideally, you should contact an insurance agent whenever you think you might begin using subcontractors. Not everyone can forecast the exact time they'll need subcontractors, but during annual renewal is a good time to address it.
Sub coverage is better to have sooner rather than later. Often, when an accident happens on-site, the general contractor mistakenly thinks their policy automatically covers the subcontractors' operation of equipment. The resulting liability can be devastating to a business but is easily covered with the right insurance.
Tip #5: Ask About Adding Subs to Policies
Tip #6: Training Reduces Liability
Companies can greatly reduce their liability by training employees on safe equipment usage and best practices at the job site. Anyone operating equipment should be fully and currently licensed to run it and employees need to clearly understand that no unlicensed operators may jump behind the wheel or control panel.
Businesses benefit from forming a relationship with their rental dealer, so it's easy to get information about the insurance requirements and coverages available. Knowing exactly what kind of protection your rental contract provides helps you better tailor an insurance policy or supplemental protection.
Most experts recommend that industries using heavy equipment regularly re-train employees that work with or around it. MacAllister Rentals can help with the training of your industry needs.
It helps to create, implement and consistently reinforce standards about safety, efficiency and proper operation of rental equipment. Develop policies and procedures such as inspections, documentation and accident response. They should be clearly communicated to workers and then practiced.
Feel free to ask the equipment rental company lots of questions about their equipment maintenance plans and what items are excluded from a loss-damage/limited-damage waiver.
Tip #7: Document Everything
Businesses that rent big machines can gain an advantage over potential liability by documenting each stage of the machine's usage. Keeping good records also goes a long way in preventing adverse liability. Here's what to do:
Insist on an inspection and report before you use the machine and before it goes to its next job.
Track and record hours, operators and job sites.
Implement best-operation practices and make a record of it.
Documentation can be the deciding factor in whether a liability claim has merit or goes nowhere. Paperwork proves at least three key facts:
An established protocol was followed to select the equipment for the site.
The machine was in good working order at the time it was being used.
Operators had the proper training to use the machine.
"Document" includes using a cell phone or camera to photograph equipment as it comes and goes. Pictures create a quick way to reference the condition of rental equipment, but images only work well if you have a system in place to manage the photos.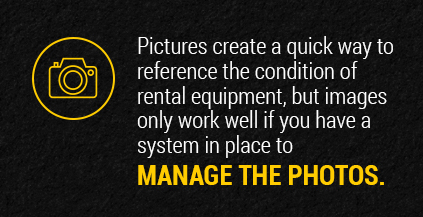 The same principle of strategic organization applies to other methods of documentation such as diagrams, forms or worded descriptions. The data will accumulate quickly and needs a classification system to be useful and accessible.
Most people carry highly capable cell phones that can serve as cameras, note-takers, video recorders and other in-the-field functions. There are also mobile applications designed to help construction and other industries manage rental equipment and other records.
Tip #8: Know What to Do When an Accident Happens
Owners, managers and workers in every industry can take steps to make sure they're prepared with the best possible response when an accident happens:
Secure the people, machines and site involved with the accident.
Call the emergency response number of OSHA's regional office in your area.
Interview witnesses and operators.
Record digital video of the interviews.
Take pictures of the site.
Measure dimensions such as height and distance, if applicable.
Make sure to always be prepared with all the materials you need to take action quickly. For example, train each job supervisor in the response protocol and provide access to a kit that includes First Aid items, paper and pen, a tape measure and a recording device.
Nearly all cell phones will create video and take still photos, but some companies prefer to get a video camera that provides superior sound quality. A less expensive and easy-to-use option is a digital sound recorder to capture audio only.
Tip #9: Separate Personal Assets From the Company
Owners of companies that use heavy equipment can take legal steps to protect themselves from liabilities the company may incur. For example, owners can structure the business as a limited-liability company (LLC) or sub-S or -C corporation.
There are times when a liability case has merit or an owner is insured, but not fully or properly. If a liability claim happens to exceed the amount of insurance a business owner carries, the complainant can go after the owner's assets. To form a corporation, most people consult an attorney or legal adviser with expertise in the laws of the business's home state.
Tip #10: Team Up With a High-Quality Partner
MacAllister Rentals provides you not only with a full range of equipment for rent, but also more than 70 years of experience and a track record of exceptional service. We will help you understand the protection options we offer and how they match with your insurance coverage needs.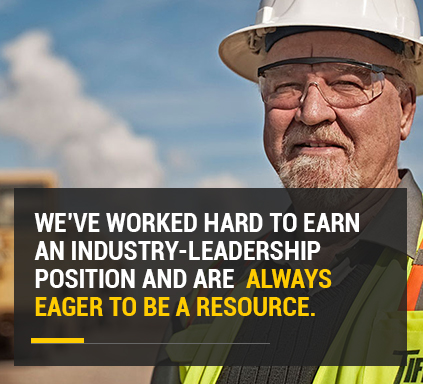 We're a third-generation family-owned business recognized as a premier Cat® dealer throughout Indiana and Michigan. We also provide sales and service for approximately 50 other brands of machines.
Our service includes sales and rentals as well as maintenance, repairs, monitoring systems and the full backing of our expert staff. We've worked hard to earn an industry-leadership position and are always eager to be a resource. MacAllister supports businesses, shares knowledge and solves problems including the complex mix of rental equipment and its coverage. We welcome your visit, call or contact us today for your rental equipment needs.
*Disclaimer: This information is not provided by legal professionals and is intended only to complement, and not to replace or contradict, any legal advice or information provided by legal professionals. The information and policies covered in this resource do not necessarily reflect those offered by MacAllister Rentals and/or its affiliates. If you have any questions, please contact your attorney or other legal professional.