Keep your crews safe while working in enclosed areas by renting indoor equipment designed for inside use. Renting electric equipment for interior work will reduce your costs over time because your workers will be more productive and safer while on the job.
Jump to Section:
Factors When Working in Enclosed Areas
While not every construction project requires interior work, those that do need extra caution when selecting equipment. If using fuel-powered equipment, the exhaust could cause severe health problems for the workers inside due to carbon monoxide (CO) poisoning. The chances of a toxic environment increase based on the equipment used and the space available.
Air quality, however, is not the only factor to consider when working in enclosed spaces. Equipment in small areas produce loud noises that may require workers to wear hearing protection. Cramped working areas could also put workers at a higher risk for accidents. Larger equipment in such areas worsens the problem.

The equipment you select for indoor jobs will depend greatly on the environment where your workers use them.
1. The Size of the Workspace
The size of the worksite will factor into your decisions about the types of equipment you use. Large, open spaces may allow for the safe use of small fuel-powered tools. However, walled-in areas can pose serious risks, even if they have windows and open doorways. When in doubt about the safety of using tools or equipment with internal combustion engines, opt for electrical alternatives.
Electric tools and equipment come in smaller sizes than their gas-powered counterparts, so they do not use as much space in enclosed areas. For instance, mini electric excavators are smaller than mini gas-powered excavators. If fuel-powered equipment will be unwieldy to use, choose an electric version instead to free up space for safer working conditions.
2. Equipment Fumes and Carbon Monoxide Poisoning
Fumes from fuel-burning engines can be deadly. The Centers for Disease Control (CDC) warns of the risk of CO poisoning from such sources. Even small hand-held tools powered by gas, such as welders, compressors, concrete cutting saws, washers and pumps, can produce toxic levels of CO in well-ventilated areas.
Carbon monoxide is an odorless, colorless gas, so you won't be able to smell or see it. Dizziness, headache, erratic behavior and nausea can result from CO exposure. Unconsciousness or neurological effects severely impair the sufferer and can lead to fatal situations. Teach all workers to recognize these symptoms and to get to fresh air at once and call 911 if they occur.

Gas- or diesel-powered engines can drastically increase the chances of CO poisoning. To reduce the possibility of this happening, choose electric alternatives to those machines. If you must use fuel-burning equipment, place the engine outside and have a CO detector in the working area to alert workers of dangerous CO levels.
Do not rely on fans or open windows to supply enough ventilation. Incidences of CO poisoning have occurred even with open windows. Internal combustion engines cannot run in enclosed spaces. Reserve them for outdoor use to prevent endangering your workers with CO fumes.
The CDC has reported several episodes of CO poisoning from use of engines in enclosed areas, including cases of ventilated spaces. Incidents that resulted in CO poisoning included a plumber working with a gas-powered concrete saw in a room with a fan and open doors and windows and workers using pressure washers in a poorly ventilated parking garage.
With so many powerful electric alternatives to equipment that use internal combustion engines, you do not have to risk your workers' safety. Provide them with electric equipment to prevent CO poisoning.
3. Noise Production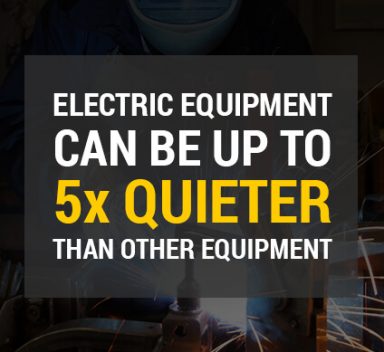 Equipment and tools can generate considerable noise levels. When working indoors, the sound reverberates off walls and ceilings, increasing the noise levels workers experience. Interior situations require more care when choosing the equipment workers will use or encouraging hearing protection while working.
Noise levels can cause immediate damage to the ears or result in harm after long-term sustained exposure to low levels of noise. For instance, OSHA requires hearing protection for exposure quarter-hour or less of sounds greater than 115 dB, but when levels are only 90 dB, workers need hearing protection when in the environment for eight hours.
Knowing the average noise levels of power tools your workers use can help you recommend when to require hearing protection. For instance, hammer drills average between 110 and 115 dB while circular saws and tile saws average just over 100 dB. A standard front-end loader averages 86 to 94 dB. Electric construction equipment options have much lower noise levels, some models boasting five times quieter noise levels.
Reducing the use of diesel-operated equipment can help protect the hearing of those working inside on construction projects. Also, provide all workers on the jobsite with hearing protection for times when they must use noisy equipment for extended periods of time. Protecting their hearing will help them to better respond to verbal commands and warnings on the jobsite, keeping them safe while at work.
4. Worker Safety
To ensure worker safety, always provide safe conditions and equipment. If using diesel or gasoline-powered equipment or tools, place the motor outside, if possible. To protect workers from fumes and excessive noise, never use such equipment in an enclosed space.
When working in an enclosed area, OSHA instructs workers to not operate fuel-powered equipment for extended times in confined spaces, warehouses, factories or other enclosed areas. Choose safer electric versions of equipment for indoor use.
Ensure workers know how to use all equipment safely and know how to recognize symptoms of carbon monoxide poisoning. Installing CO detectors adds another layer of safety, especially for small groups who may experience poisoning from carbon monoxide simultaneously and not recognize the symptoms in each other.
Working indoors does not have to slow workers down or put them at risk of injuries if you have adequate safety measures in place to protect them, including the safest equipment for enclosed areas.
Renting vs. Buying Electric Equipment
Should you rent electrical construction equipment by default in all situations, rather than buying? As with the answer to which machines you need, whether you should rent or buy depends on several factors. While both have their advantages, neither offers a perfect solution for all situations. You must assess your business needs and how often you will use the equipment. While renting offers a money-saving solution for many situations, there are some situations where purchasing is the most cost-effective solution.
Advantages of Renting Equipment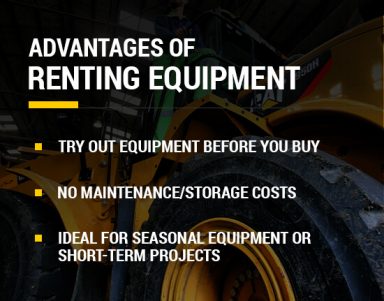 Renting equipment has many benefits over making an upfront purchase. If you want to try out high-quality products from trusted brands, you can do so through equipment rental. You may have brands that you trust on your jobsite and trying out tools from assorted brands through rental lets your crews evaluate other brands without committing to a major purchase. Buying the equipment may cost you too much, especially if your workers report that they have issues with using the tools or don't like the models. If you do decide the rented equipment meets or surpasses your expectations, you can buy equipment from that brand.
When you rent your equipment, you never need to worry about its upkeep. You don't need to maintain equipment that belongs to the rental company. Because the machines are returned to the rental company after you use them, you don't need to budget for their care and maintenance in your expenses.
With equipment rental, you also get savings in storage. When you have multiple machines, especially larger equipment such as skid loaders or compressors, you must securely store them when not in use. Unless you have a large facility for keeping equipment stored between jobs, you may have trouble finding a location to keep your construction equipment.
You may not want to buy an electric mini excavator you will only use a couple of times a year. Renting these types of machines makes sense from a financial standpoint because you can still get the best equipment for working inside without having to purchase them.
Lastly, renting has lower upfront costs compared to buying. If you only use the equipment occasionally, renting makes financial sense. For short-term projects or temporary use of machines your crew does not often need, renting will save you money.
When Buying Might Be Best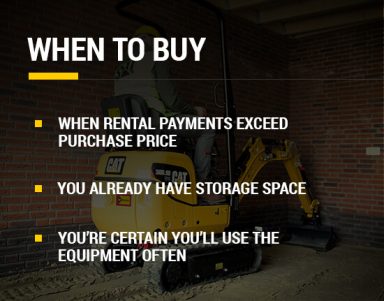 While renting equipment can help you save money, if you use it so often that your rental payments exceed the purchase price, you should buy it. Likely, your construction business will have a core set of tools and equipment that you own for the jobs you do most often. Everything else, you may rent equipment for.
When deciding whether to purchase a piece of equipment, remember to consider the cost of ownership. Some of the expenses to account for include the costs of maintenance and storage space. If you already have space in which to store your equipment, your upfront costs will be lower.
Buying equipment comes with more risk than renting since you're making a larger upfront purchase. For instance, you may buy a tile saw for an upcoming project that will require extensive use of it, but if that job does not happen, you will have spent a significant amount of money unnecessarily. Buying may work in some cases but be certain that you will use the equipment that you buy regularly enough to justify their cost.
To decide when buying your equipment works best, you'll have to do some math. If you are still not sure which option best suits your business, consider renting.
Why You Should Rent Equipment
Renting equipment relieves you of many of the responsibilities of ownership, such as maintenance and storage. With renting, you can get high-quality, well-maintained equipment from brands that you trust for an affordable price.
If you don't know the types of equipment you need, such as whether gas or electric equipment will better serve you, talk to the team at MacAllister Rentals. We're experts in helping you find the equipment your business needs to get more done.
Types of Indoor-Use Equipment
Indoor equipment will run with electricity instead of an internal combustion engine. Using electrical tools and equipment generates less noise and fumes that could both harm workers. You have several options for machines made for indoor use, even loaders and excavators have electrical options ideal for use inside unfinished enclosed areas for construction or demolition.

Equipment you may require inside include electric skid steer loaders for moving dirt or broken concrete from demolitions or excavations. Electric excavators dig out holes to access utility lines. Other types of tools to rent include jackhammers, compressors, pressure washers, fans, welders, concrete saws and light towers.
1. Electric Skid Steer Loaders
Just as skid steer loaders make moving materials easier, so do smaller electric models. But think beyond just earthmoving when it comes to electric skid steers. When you choose this type of equipment to work inside, you also have the choice of selecting from a variety of attachments to use with it.
The standard attachment for moving materials is a bucket. You have multiple choices with capacities varying from 2.5 feet to 3.75 feet. If you need to move objects that may fall out of a bucket, such as round poles, a grapple holds the materials tightly during transport. If your project also requires you to break up concrete, select the hydraulic jackhammer attachment that can generate 450 pounds of force on impact.
The SHERPA 100 ECO fits easily through doorways with a height of 47 inches when the bucket is low and a width of 30 inches. Only very narrow doorways will not accommodate this skid steer loader. The 2-horsepower electric engine still allows for a breakout force of 1,851 pounds. The tipping load when the bucket is at its highest is 484 pounds, but this increases to 770 pounds when the bucket is low due to the machine's lower center of gravity.
The ability to break up concrete and move materials inside quickly and easily reduces the time-consuming manual labor you once had to do. With an electric engine, your workers will not experience the excessive noise and fumes from a diesel skid steer, but they can still use this powerful equipment to get the job done.
2. Electric Mini Excavators
Excavators typically have high-powered diesel engines to allow them to move large volumes of earth. For smaller jobs, or those indoors, the output from those excavators exceeds the needs of the job. While mini diesel-powered options exist, these cannot run in enclosed areas. For interior work, use electric equipment for worker safety and a size that can access the worksite.
Electric mini excavators work well indoors for small demolition projects or those that require digging. With a 6-foot-10-inch height and 27.5-inch width, this excavator can fit through most finished doorways to reach any interior project that needs digging. When in use, the tracks or wheels spread wide to 37.5 inches for increased stability as the bucket works.
The five-horsepower engine can exert 2,360 pounds of digging force from the bucket. While the standard bucket measures 12 inches and holds 0.8 cubic feet, you can opt for a smaller 8-inch bucket or larger 16 or 18-inch models. The front swing length is only 4 feet, so you can work even in tight spaces inside.
With the availability of electric excavators, you don't have to use manual labor for digging projects inside. Using electricity, you get power and performance while keeping your workers safe.
3. Electric vs. Gas Tools
Electric tools offer a safer alternative to gas-powered options but still have their own safety concerns. While gas tools expose workers to potentially lethal fumes from the exhaust, electric versions can cause shocks that may lead to cardiac arrests.
If you prefer to rent tools that use electricity for your workers to use inside buildings, take precautions to avoid dangerous situations. OSHA requires using one of three methods to prevent shocks in users of power tools.
Use a grounded plug with three prongs in a grounded outlet.
Use double-insulated tools that have an extra layer to protect against electrical shock.
Use a low-voltage power transformer to supply the tool with electricity.

Never use power tools in damp or wet areas, unless the tool has a rating for such conditions. Never use damaged tools, especially those with damaged wires, and keep the area well-lit and free of trip hazards, such as electric cords.
When used safely, power tools such as electric jackhammers, serve as a fume-free alternative to fuel-powered equipment.
4. Pneumatic vs. Gas Tools
Pneumatic tools use air to increase force in the same way hydraulic tools use fluid to increase pressure. One of the most commonly used pneumatic tools is the jackhammer, but you can also rent electric or electromechanical versions of this tool.
As it does with all other tools, OSHA has requirements for the operation of pneumatic options. For tools with different attachments, such as jackhammers, you must use safety clips to keep the addition in place. Nail guns or staple guns that have a force of more than 100 psi must have a muzzle to prevent accidental discharge of the fasteners. The hose must connect to the tool securely to keep the tool from falling off the hose.
As many rules for pneumatic tools as there are, these tools still offer power and performance when used indoors.
Rent the Equipment Your Team Needs at MacAllister Rentals
Many construction projects include interior work that requires powered equipment. Don't put your workers at risk by providing equipment that could produce dangerous fumes. Instead, opt for electric alternatives that get the job done without risking worker lives.
If you aren't certain about the types of equipment you need for your worksite, talk to the experts at MacAllister Rentals. We can help you determine what equipment you need for your indoor construction work. Our professionals will also give you a quote for the rental price. You can contact us online or come to one of our Michigan or Indiana locations to see the products in person.

Renting the construction equipment and tools you need is easy when you work with MacAllister Rentals. Find the perfect equipment for your next job today.