Getting the right dozer for the job is essential. The specifics of the project, workspace size, job site conditions and type of materials you'll be moving can all influence which type of dozer is best suited to the assignment.
Before renting a bulldozer, check out this detailed guide to help you choose the right dozer to rent for your particular project. We'll walk you through the common uses of dozers and types of attachments, so you can make an informed rental decision for projects of any scale.
Jump to Section:
What Are Dozers Used For?
Bulldozers are primarily used to move and push dirt, rocks and other materials at your job site.
The standard applications of dozers include:
Excavating: From clearing land to moving mounds of dirt, bulldozers excavate for many purposes. Excavating encompasses many of the essential tasks dozers perform when preparing a work site.
Leveling land: Also called grading, land leveling creates an even surface that construction or engineering crews can use as a base for their project. Dozers are also ideal for grading an area in preparation for building.
Removing obstructions: Quickly and efficiently clear extra dirt, stones, rubble or sand from a job site. The right dozer can even remove bigger obstructions such as trees, stumps and large rocks.
Spreading materials: Dozers can help spread materials like soil or sand around an area. Because bulldozers handle this step of excavation much quicker than a crew, workers can focus their energy more efficiently.
Maintaining roads: When dozers are used in road construction, it leads to longer-lasting road conditions. Various road building cycles rely on bulldozers for tasks like reshaping and grading.
When a crew has the right dozer for the job, you limit the amount of strenuous work and reduce their risk of injury on the job site.
Job Site Restrictions: Why Dozer Size Matters
Every job has different needs, with each location offering diverse workspace sizes and layouts. When choosing the correct size of dozer, you need to know the size of the job site and how to navigate its unique challenges. The equipment must fit your site as well. If it is too big, you'll face more issues with maneuverability. If it is too small, the dozer may not offer enough power for the project. Remember, a large dozer will give more output, but it is challenging to move and store.

Particular job sites may have equipment restrictions, limiting how large your dozers can be in both weight and overall size. Dozers come in different sizes, shapes and power ratings, so you can select an ideal compromise based on your project specifications. Consider how much space you have on your work site and any equipment size restrictions to determine which of the three basic dozer sizes — small, medium or large — will work best for your job site.
Small Dozers
The small dozer, also called a compact bulldozer, is ideal for residential and light construction work. With an operating weight of around 20,000 pounds or less, small dozers offer speed and maneuverability for smaller job sites and locations with tight spaces. Small dozers are easier to transport and store. The lower weight and tracks instead of tires make small dozers suitable for use on softer surfaces as well.
A small dozer can find its purpose on various job sites such as:
Driveways.
Residential lots.
Small construction sites.
Snow-filled locations.
Sites with many obstacles.
Areas with tight spaces.
If your job site is small or has numerous obstructions to navigate, a small dozer may help push small loads of materials, remove tree stumps or clear a short expanse of land.
Medium Dozers
Due to their flexibility, medium dozers can complete numerous tasks on work sites that are more expansive and straightforward to navigate. Regarding operating weight, medium dozers range from 20,000 to 60,000 pounds.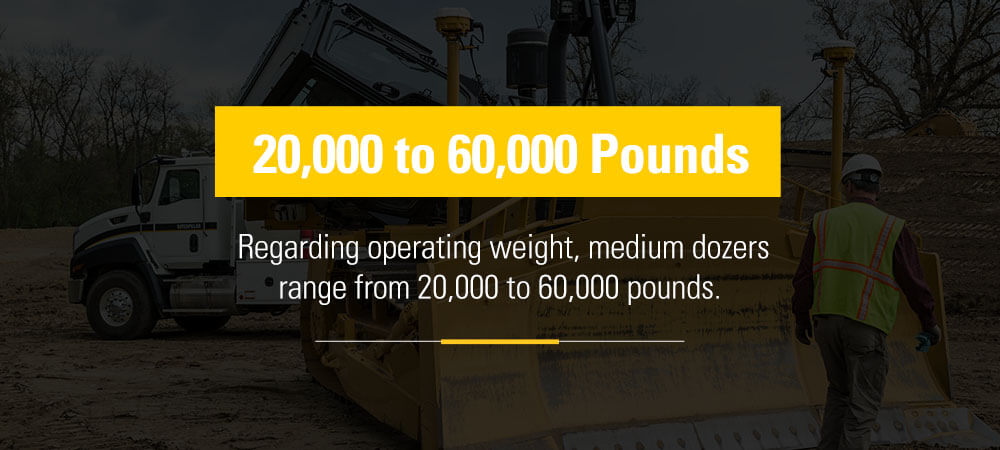 If job site equipment size restrictions prevent the use of large bulldozers, consider renting a medium dozer for these projects instead. While the medium dozer offers less strength, it provides more power than smaller options to help remove large pads of rock or roots and push bigger loads of materials.
Large Dozers
Large dozers have an operating weight of 60,000 pounds or greater, with some of the largest bulldozers weighing well over 200,000 pounds. The larger dozer offers more strength to accomplish heavy-duty projects on bigger job sites and tasks requiring more power. Heavier machines are more challenging to move and store, so it's best to use large dozers on expansive sites that are easy to navigate. Large bulldozers are ideal for moving materials in harsh conditions and across rugged terrains like a landfill or quarry.
Track or Wheels: Comparing Common Types of Dozers
Dozers come in track and wheel types. Crawler dozers use tracks to move across the land, similar to a military tank. Conversely, wheel dozers feature tires instead of tracks.

Different job sites may require the use of track or wheel dozers, impacting which type of dozer is right for you to rent. Determine whether tracks or wheels work best for a particular project to make the right rental choice.
Track Dozers
Sometimes called crawler dozers, track dozers move via tracks that offer better traction and mobility on uneven terrain. The tracks have a larger surface area than tires, stopping heavy dozers from sinking into the ground. Because tracks disperse weight across the surface, a crawler dozer is ideal for use on various soft surfaces. For these reasons, track dozers are popular in agricultural and construction sites.
Typically, tracks consist of the track frame, rollers and other metal components. A track chain surrounds the frame to form the track's flat surface. With a heavy blade, crawler dozers can push bulky materials for long distances on irregular and shifting terrain. While the crawler dozer is suitable for fields, plains and off-road landscapes, it could damage paved or sensitive surfaces with the metal track parts.
Wheel Dozers
Wheel dozers use tires to move, which offers greater maneuverability for general purposes. A crew can operate the wheel dozer on a smaller axis, providing the mobility to increase the productivity of various applications. While wheel dozers are often larger than track models, the tires make these machines easier to move and turn. This dozer type also delivers exceptional strength to handle demanding tasks.
Tires are less likely to ruin paved surfaces and cause less disturbance on delicate ground. Wheel dozers are at higher risk of sinking on soft surfaces like sand or mud but move more than three times the speed of a crawler dozer on standard job site conditions. The wheel dozer works best for road maintenance, large mining operations and other projects on sites with sensitive surfaces.
Dozers for Every Job Site Condition
When you choose a dozer to rent for your site, it's important to consider how the dozer operates under various conditions. Know the conditions of your job site and the type of work you must complete.

Find the right dozer type to handle any project, whether the job site conditions are:
Dry: Ground that is dry is often preferred over wet or muddy working conditions. Both tracks and tires can move on dry surfaces with relative ease. If the land you are clearing is arid, a heavy blade and other dozer attachments may be needed to break up the hardened surface.
Muddy: Small dozers have a low weight and tracks instead of tires, making them ideal for use on softer surfaces like mud and sand. Meanwhile, heavier machines and dozers with tires are more likely to sink into the muddy ground.
Snowy: Snow-filled areas often benefit from the speed and versatility of a small dozer. A bulldozer with an angle blade is ideal for moving snow to the left or right side. You may even plan to use snowplow blades to clear land in cold climates.
Sloped: When using a small dozer, you must ensure its blade has enough clearance so that the bulldozer does not get stuck in the ground when working against slopes or on steep terrain. Crawler dozers offer better traction on shifting terrain and irregular surfaces.
Understand what standards the bulldozer should meet. Train your crew to follow all safety guidelines for operating heavy machinery and equipment, especially if the unique conditions of your work site have additional specifications. Create a safe workspace with the right tools for the job.
Choose Dozers That Can Move the Load
Consider the various tasks you need to complete on your job site. Different industries use dozers for multiple assignments, from leveling land to spreading materials. Knowing what you are moving, whether it's dirt, rocks, soil or sand, helps you decide what factors have the greatest impact when renting equipment. Select a dozer size and potential attachments that can move the load quickly and effectively.

For many projects, it might make the most sense to rent the largest dozer that's allowed on your work site. Avoid renting a bulldozer that is underpowered for the job at hand, but remember that a large dozer comes with its own challenges in size and maneuverability. When the size, shape and power level of a dozer meet the needs of your job, your assignments take less time to complete, and you deliver a higher quality of work.
Removing Stumps vs. Excavating Roots
If your project will involve removing tree stumps or the occasional rock, a small dozer is typically capable of the task. However, medium bulldozers might be better suited for clearing out tree roots or large areas of rock. If you want to complete a job quickly, a medium dozer can also make a crew more efficient on job sites that aren't necessarily small or challenging to navigate.
When to Use Mulching Dozers
Mulching machines and mulching heads provide optimum productivity on work sites involving multiple tasks. The Cat® D3K2 Mulcher takes the foundation of the D3K2 dozer and adds the HM518 Mulcher, creating a balanced and durable machine that is ideal for soft surface conditions and rough terrain. For added efficiency, you can replace the mulcher with an optional Cat Variable-Pitch/Angle/Tilt (VPAT) blade to accomplish more tasks.
From weeds to trees under 6 inches in diameter, mulching dozers can take down and grind up whatever is above ground. Mulching keeps the root system intact while leaving a layer of mulch-like material on top. This brush-clearing method helps prevent soil erosion and quickly removes undesirable vegetation from your job site. According to the United States Department of Agriculture (USDA), mulching is an effective solution for invasive species prevention and an approved erosion control measure for stabilizing the land.
Types of Dozer Blades and Attachments
A blade is the primary attachment of a dozer. Blades are responsible for all the heavy pushing and moving that goes on at your work site. Whether it's a push frame or a C-frame, the dozer frame holds the heavy metal plate in position at the front of the machine. Certain blade varieties will have side wings or curved designs, allowing you to push larger loads for greater distances. Other blade types might lift, tilt or angle for maximum versatility.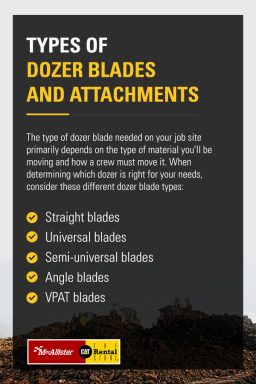 The type of dozer blade needed on your job site primarily depends on the type of material you'll be moving and how a crew must move it. When determining which dozer is right for your needs, consider these different dozer blade types:
Straight blades: Otherwise called an S-blade, a straight blade is as the name implies. S-blades are short with no side wings or curves in the design. This blade type is ideal for handling fine-grained and medium to hard materials. S-blades are also suitable for projects that involve striping, shaping, stump removal and more.
Universal blades: Otherwise known as U-blades, universal blades are tall and wide with a curved design. The large side wings can push loads for long distances across a job site. U-blades are commonly used for pushing, hauling and handling various materials.
Semi-universal blades: Otherwise called an S-U blade, this blade type combines qualities of an S-blade with a U-blade to make a more durable and versatile design. The S-U blade is narrower with smaller side wings than a U-blade. S-U blades are ideal for pushing soft to medium materials such as soil and sand.
Angle blades: This blade type can angle nearly 30 degrees left or right, depending on the application. Job sites benefit from having a dozer with an angle blade whenever the crew must move debris to the side. Angle blades work best for snow, soil, gravel and other soft to medium materials.
VPAT blades: Variable-Pitch/Angle/Tilt blades, or VPAT blades, are highly versatile. Adjust the blade's lift, angle and tilt in nearly every position. VPAT blades are a top choice for spreading soil and can help complete many other tasks from land clearing to leveling, grading and more.
In addition to deciding what type of blade you need, you should consider what other attachments will make your work more efficient. Do you need to rip the surface first? How much vegetation does the job entail? These and similar questions regarding the specifications of your assignment will help determine what special attachments are needed.
Optional mulchers and rakes can help perform more diverse tasks. A ripper helps break up dense earth and packed materials that need to be moved. While not necessary for every job, the dozer ripper makes earth removal applications quicker and more straightforward. Several dozer attachments are available, so it is essential to research which options make the most sense for the project specifications.
Benefits of Renting Dozers for Your Projects
When it comes to getting dozers for a particular project, you often have the option to purchase or rent. The decision to rent offers certain advantages, especially when the scale of a job site may vary between projects. Residential plots usually need a small dozer to maneuver around obstacles and navigate tight spaces. However, if you tried to use the same small bulldozer on a large work site, the job would take much longer to complete. Conversely, you wouldn't be able to use a heavy-duty dozer to accomplish tasks that a small dozer is better suited for.

Renting is a fast and efficient option, allowing you to bring the latest technology to your job site without the long-term investment. People rent dozers for various reasons:
Skip the upfront investment: Avoid long-term commitment to equipment that will eventually become unusable or obsolete. When you rent, you have access to all the latest bulldozer models. Rent based on short-term equipment needs and get the right dozer for every job without paying high retail prices.
Gain tax benefits: Rental equipment is a deductible expense and may even have some tax-deduction benefits based on the nature of your work. Purchased equipment is taxed as a depreciating asset over its lifetime.
Provide specialty performance: Renting specialized equipment opens the door to new opportunities for your business. Cater to unique needs beyond regular construction, such as projects in road maintenance or the agricultural industry.
Expand machine inventory: Get the specific equipment you need for a job, even if you don't typically use that type of dozer. No more turning down jobs due to a lack of equipment. Rental options allow you to take on more projects and prepare the particular job site conditions.
Avoid transport and storage costs: The rental service provider can deliver and pick up the equipment as required, so you don't need to handle transportation between sites. Equipment rental also eliminates the need for long-term storage. This means new machines won't go underutilized.
Eliminate operational expense: Service expenses increase as the equipment gets older. You must upgrade technology and change parts regularly. When renting, the rental service provider handles any maintenance and repair costs.
Maintain market competitiveness: A great advantage of renting is having modern dozers for your projects. Small competitors can procure the same equipment models as the big-name companies, attracting new customers looking for top-of-the-line equipment use.
Renting allows you to get the best equipment for a particular assignment. Additionally, you get to see how well certain dozers, blades and other attachments work for different jobs. If you find equipment suited to your projects, you may decide to invest in your own model. Renting is an excellent solution for diverse projects or seasonal work, as you don't need to purchase, store or service the equipment all year.
Trust MacAllister Rentals to Help You Rent the Right Dozer for Your Job
If you're still unsure which dozer you need to rent for a particular project, the experts at MacAllister Rentals are here to help you find the best options. We rent a wide selection of high-quality dozers from Caterpillar and other top manufacturers. Choose between track-type and wheel dozers, or check out our Heavy Rental division for any large, high-quality dozers you might need on the next project.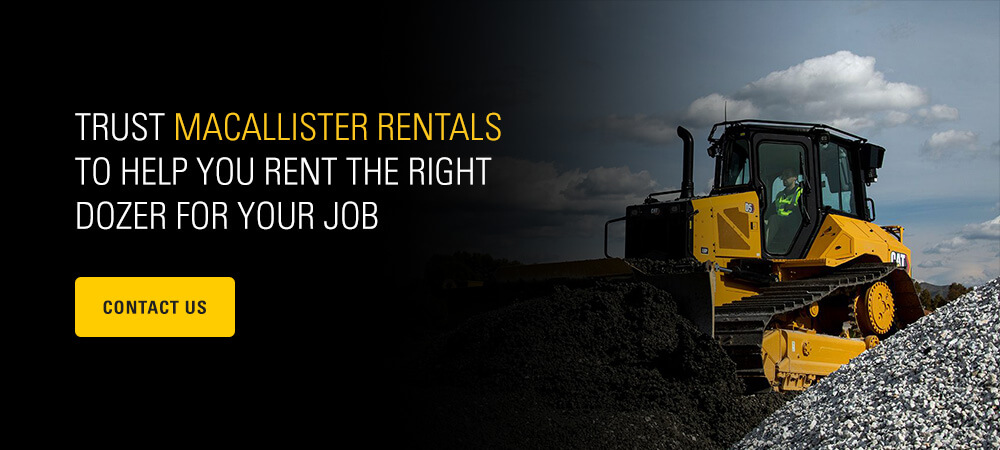 For more information about our dozers for rent, contact MacAllister Rentals online today!