When snow removal season starts for your business, you need durable equipment for your crews to get their jobs done. Whether you need heavy equipment or compact models, renting gives you these options and many more. When you choose rental, you will stand out in your field with low-hour equipment and tools and the flexibility to scale to bigger jobs as needed. Find out the options you have for renting snow removal equipment and how it can help your business.
Jump to Section:
Equipment for Winter Operations
To avoid costing your company too much money by purchasing snow removal gear, consider rentals. If you have larger lots that require snow removal, you will need proportionately sized equipment. Backhoes and wheel loaders may better serve your business for massive jobs. When you need to take care of snow from a small lot, compact track loaders or skid steer loaders will be better options. Whatever size equipment you use to move the snow, you may also need a dump truck to haul it away from the area and attachments for transforming your loader into a snowblower or snowplow. Find out what makes these pieces of equipment different from each other and the types of jobs you may use each for.

1. Backhoes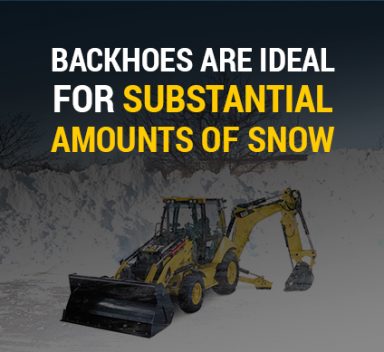 While you may think of backhoes as earthmovers, they also can move enormous amounts of snow from the ground into dump trucks or shift loads from one area to another. The benefit of this type of equipment is its flexible function. On one side is the backhoe that allows you to scoop up snow and dump it into a truck. The other side has a front loader for moving even larger loads of snow.
Our durable Cat® backhoes give you the option of renting a model with quick coupling capabilities. For example, the Cat 420E IT model includes the IT Quick Coupler option that allows for tool changing in 30 seconds. You can quickly convert from a loader to a snowplow on the front of the backhoe in under a minute. Not all models have this Quick Coupler, verify if the equipment you want has it before choosing attachments to use.
Backhoes can reach speeds up to 25 mph. If you have several yards of snow to clear, a backhoe makes it easy to move between the areas. Its two-sided tools also increase the number of tasks the backhoe can perform. If you need versatility and equipment to manage substantial amounts of snow, a backhoe may be the best choice for your work.
2. Skid Steer Loaders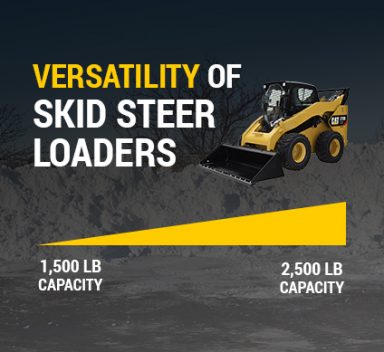 Skid steer loaders are not as large as backhoes, which makes them better suited for removing snow from smaller lots. Like backhoes, skid steer loaders have many attachments to moving snow and perform other tasks. Unlike backhoes, though, skid steer loaders are available in a wider variety of sizes. The smallest is ideal for work in a private yard, with a capacity of 1,500 pounds. The largest has a capacity of 2,700 pounds.
The wheels on the skid steer loader drive best over flat, stable ground. If you need a similarly-sized piece of equipment to travel over more rugged terrain or slick conditions, opt for a compact track loader instead.
Skid steer loaders have great flexibility thanks to Cat interchangeable work tools that attach to the front of the equipment quickly, converting the loader into a snowblower or another snow mover. You can also dump snow using a loader bucket on the front. The size of the skid steer loader determines the bucket capacity options for the front.
For compact snow removal equipment, you should use either a skid steer loader or a compact track loader. The difference between these types of loaders is whether they have wheels or tracks on the undercarriage. Skid steer loaders have wheels whereas compact track loaders have tracks. The wheels allow for general use on flat terrain but choose the tracked loader for rugged land. The smaller sizes of these pieces of equipment make them better suited for smaller snow removal jobs.
3. Compact Track Loaders
Compact track loaders use tracks to smooth out the ride over uneven surfaces, so the ruggedness of the land does not affect control of the vehicle. As with skid steer loaders, we offer several sizes for rent, including the smaller Cat 239D which has a capacity of 2,050 pounds to the larger Cat 299C, which can carry 4,150 pounds.
Using the hand throttles, you can maintain a steady engine speed when using the snowblower attachment. The Cat 279C and 299C models can adjust the ground speed to remain constant. Keeping the rate the same, even at slow speeds, leads to precision when snow blowing or doing other tasks that require consistent speeds.

4. Wheel Loaders
Wheel loaders have the biggest bucket capacities, up to 6.5 cubic yards, and engine horsepower values, up to 211 HP, of all your loader options. Like backhoes, wheel loaders work best when you have a lot of snow to scoop up and move.
All the wheel loaders we rent come from the Caterpillar company. These loaders offer more resourceful operation thanks to the brand's fuel-efficiency. With low-hour equipment that we maintain, you don't need to worry about lost time for breakdowns, either.
Models with "IT" in their name, have an integrated tool carrier, which lets you use multiple tools on the front of the vehicle. The heavy-duty Cat IT62H model has several snow-removing options — quick reversing plows in manual or hydraulic operation, V-plows and trip-edge reversing plows. Don't forget to mention that you need snow removing attachments for your wheel loader when renting. These snowplow tools are optional features and not standard on wheel loaders.
5. Dump Trucks
You need a dump truck to haul away snow removed from roadways and lots. Our standard rental is a single-axle truck for secure handling. Its 6-cubic-yard-bed holds a massive load of snow for removal. If you have a wheel loader with the largest bucket, though, even this generously sized bed may be too small, and you will need an extra-large dump truck. You can rent extra-large dump trucks through our heavy equipment rental service.
Most operations will find the standard dump truck is adequate for getting rid of snow from an area, especially companies that use smaller loaders such as compact track loaders or skid steer loaders that have less massive buckets.
You must show a commercial driver's license (CDL) and auto insurance before renting a dump truck. Rental truck options vary based on location, so check out the dump truck models available at a location nearest you.
6. Attachments for Loaders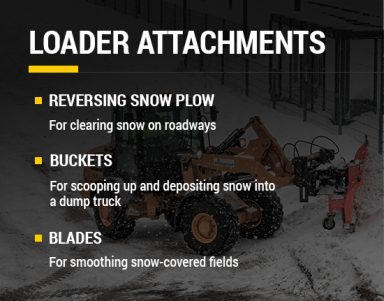 Transform loaders into specialty snow removers by changing the work tools. The available options depend on the model and include snowplows, snow blowers and blades.
For snow clearing on roadways, use reversing snowplows, such as the Cat IT62H. V-shaped snowplows work best after significant snowfall and allow the equipment to push through the snow and throw it to the sides of the road.
You can use bucket attachments for scooping up and depositing the snow into a dump truck. If you need to smooth a snow-covered field, use a blade attachment on your loader.
We have blades, buckets, snowblowers and several other types of work tool attachments available to rent. Whether you rent loaders or other equipment from us or not, you can still rent attachments as many types of Cat equipment use a wide variety of work tools. If you have questions about the compatibility of your equipment with the work tools you need, ask us.
7. Extra-Heavy Equipment for Snow Moving
When snowfall exceeds the capabilities of our standard rental equipment, it's time to consider using extra-heavy equipment. Another part of the MacAllister Machinery family is our heavy equipment rental department. Heavy equipment includes off-highway or articulating dump trucks as well as larger wheel loaders. Contact us for more information about our heavy equipment for cleanup after extended, heavy snowfall.
Why Rent Instead of Buying?
If you're on the fence about renting instead of buying winter equipment, consider the benefits of renting. When you rent, you can cut your operating costs while using equipment with low hours from Caterpillar.
When deciding between buying and renting, think about the amount of use you get from the equipment compared to how much you spend on it. Generally, snow removing equipment only has use for a brief time each year, making purchases less cost-effective than renting.
Cost and the amount of use you get from snow moving equipment should not be the only factors you examine when deciding whether to rent. Other questions to ask include:
How flexible do you want your operations to be?
Are you looking to expand or take on a few larger jobs over the winter?
Do you have the personnel to run rental equipment?
Do you want to try different brands and equipment?
1. Ability to Scale Operation
When you rent equipment, you can scale your operations up as needed. If it doesn't snow enough during the winter to justify using heavy equipment, you can rent compact equipment. On the other hand, if there's a blizzard, compact snow removal gear may not have enough power to get rid of the more massive amounts of snow.
Renting equipment as needed allows your business to adapt to ever-changing weather conditions. Whether you have a bitterly frigid winter with more snow than usual or a dry season with less than expected snowfall, you can rent only the equipment you need.

The benefit of using rental equipment is you can move more snow without needing to hire more people. One person can move smaller amounts of snow with a skid steer loader or larger amounts with a wheel loader. If your team is properly trained, you can more easily scale up the operations of your business as needed.
When you rent, you don't need to worry about whether you will use the equipment you own during the winter. If you spent the money to buy a backhoe or wheel loader and don't use it at all during the winter, you will have wasted your money. On the other hand, if you rent the right equipment based on the current or forecasted conditions, you will have the right equipment every time your crews go out to a job.
2. No Idle Equipment During the Summer
What do you do with a snowplow during the summer? Unless you store it correctly, it might become damaged during the warmer months.

If you rent, our company expertly stores and maintains the equipment, so you don't have to. During the rest of the year, you can focus on running the landscaping aspects of your business. Free up your storage space by renting seasonal equipment rather than buying it.
3. Ability to Rent Specialized Attachments
If you already own a wheel loader or skid steer loader for your business, you can still benefit from renting winter equipment. Renting attachments lets you use your equipment the rest of the year for construction or landscaping while transforming it into a snowplow or blower for winter use.
Weather and snowfall conditions help you choose the attachments you need. For example, you may need a v-shaped blade for clearing high drifts, but you would not use that same piece of equipment for moving snow into a dump truck. Different bucket attachments make moving snow into a dump truck bed easier. You can match the bucket size to your equipment's weightlifting capabilities and the amount of snow you must move.
We can help you find the right tools for the equipment you already have. If you need both attachments and the equipment to use them with, we can help you pair them together, too.
Renting attachments lets you see how well they work not only with your equipment but also for your business. You may find using a snowblower attachment too cumbersome or that your team prefers using a snowplow instead. Until you try out each tool, you won't know how well they fit into your business's operations.
4. Try New Brands and Equipment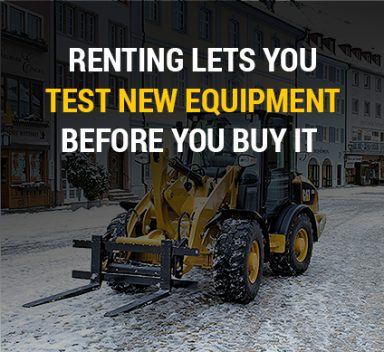 When you rent snow removal equipment, you get to evaluate it to see if you would like to buy it in the future. Because we rent well-known names like Caterpillar, you can try out the best of the best when it comes to backhoes, skid steer loaders and other equipment.
Renting lets your workers try out low-hour equipment. You may find more uses for the equipment you rent than you previously considered. If you discover more applications, you may want to buy the equipment. On the other hand, you may find that the equipment has a single-use for your business and is better to rent.
5. Reduce Maintenance
Caring for your equipment takes time and money. Renting lets you skip the maintenance, no matter how long the rental period is. If you need maintenance while renting our equipment, we will work around your schedule to repair or service the products. We won't interrupt your business to work on your rented loaders or attachments.

Because you don't need to care for the equipment, you don't have to train workers to service tools or gear. Workers who often repair lawnmowers may not know the service schedule for maintaining a snowblower attachment for a loader. Our experts know all about the products we rent and how to best care for them.
6. Lower Cost
The cost of buying a full fleet of equipment for moving and removing snow can add up to several thousands of dollars. Unfortunately, you won't use all the equipment often enough to make up for the purchase. Additionally, you would have to have the cash on hand to pay for the equipment upfront or to make a down payment.
When you rent, you only pay for the rental. You don't pay to store or care for winter equipment during the spring, fall and summer.

Since you're saving money by renting, you can pass on savings to your clients. You can offer more services to your customers, at a better price than your competitors. When you rent, you become a more competitive business and can increase your profits while cutting your bottom line.
Trust MacAllister Rentals for Winter Equipment
For winter equipment, MacAllister Rentals has the brands and products you need to get the job done well. We aim to provide you with the rental equipment you need to move your business forward. Whether you need backhoes, dump trucks or other equipment for moving snow during the winter or need them for other jobs throughout the year, we're here for you.
If you're not sure about the types of equipment you need for snow removal, ask us. We're here to help you, and will answer your questions online or in person at one of our locations in Michigan and Indiana. As part of the MacAllister Machinery family, we supply the same service and customer care you already know from our other divisions. Trust us at MacAllister Rentals for snow removal or other equipment you need.