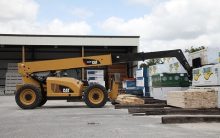 There are many factors that play critical roles in choosing the right equipment for material handling applications. These include the size of the load, the reach and height required, and local environmental conditions. Renting equipment provides the versatility to adjust your fleet to changing project requirements and increase your capabilities on an as-needed basis.
If you're looking for a reliable source for material handling equipment and machinery, MacAllister Rentals has a broad range of solutions for helping you control costs, speed up cycle times and boost profitability.
Equipment Rentals for Material Handling
We partner with a wide variety of businesses to deliver material handling rental equipment that solves your problems efficiently. Whether you work in general construction and contracting, landfill, demolition, warehousing, or any other industry with applications that require transporting materials, MacAllister Rentals has you covered. Check out our guide to learn more about which material handling lift is right for your project.
From carrying pallets and moving earth to delivering products and supplies to elevated work positions, you're sure to find the equipment needed to get the job done right. Our professional rental team will assist in identifying the products and accessories that fit your project specifications.
We carry material handling equipment for indoor or outdoor use on level and rough terrain in a range of sizes, capacities and lift heights. You'll find walkie and rider pallet jacks, internal combustion and electric forklifts — including rough terrain models — plus telehandlers and more. Our material handlers for higher aerial projects include boom trucks and cranes providing the lift, reach, and capacity for handling your most challenging jobs.
All of our material handling equipment for rent is configurable with work tools and attachments suited to the task at hand.
When Renting Makes Good Business Sense
If you have a piece of equipment that breaks down or needs replacing or you're starting a new project that will require a bigger and more diverse fleet, renting is a cost-effective alternative to purchasing new. Our temporary solutions make it possible to access the latest equipment and technology for as long or as short a time as you need it. Renting can also reduce owning and operating costs and labor requirements, since there's no need to service and repair a more robust fleet.
If you're located in Michigan, Indiana, or the surrounding areas, MacAllister Rentals is the trusted source for superior-quality products and services. We offer a variety of rental options to increase your operational flexibility.
Additional reasons to shop for material handling rentals with us include:
Get in Touch About Renting Material Handling Equipment
Browse our online selection for more information on our selection of rental equipment for material handling. To reserve your rental or inquire about our most current inventory, contact us to request to speak with a live representative. We'll be happy to answer all of your questions and provide a free quote.