On construction sites, meeting project timelines is crucial for reducing costs and maintaining strong relationships with clients. When considering how to improve construction efficiency within your company and job sites, you can implement strategies at every step of the planning and building process.
Jump to Section:
1. Acquire the Necessary Permits
Adequate planning is essential for determining your project timeline and ensuring construction efficiency later. While many construction teams take careful time and consideration to ensure they have all the materials and tools they need for the project ahead of time, streamlining the permit process can help save time down the line.

Local governments determine permit requirements, so you will likely have to research what you will need for upcoming processes. Developing a strong understanding of the general permit process and guidelines can help you save time as you take on new projects. Further, depending on where you are building, you may also have to meet neighborhood needs, which have unique conditions, covenants and restrictions (CCRs) for their building standards.
Types of Construction Permits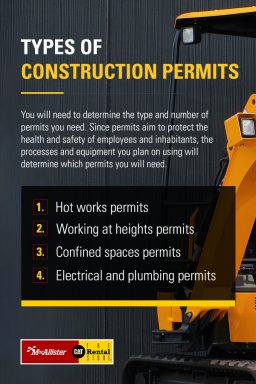 You will need to determine the type and number of permits you need. Since permits aim to protect the health and safety of employees and inhabitants, the processes and equipment you plan on using will determine which permits you will need. Building permits are the standard documentation construction and contractor teams use, which give you permission to work and build on sites while maintaining health and safety requirements. However, some other common permit types to consider include:
Hot works permits: If you want to use equipment that requires heat, like welding tools, you will need to obtain a hot works permit. While this permit helps ensure that only trained employees can use equipment that utilizes heat, it also ensures your employees have basic fire prevention training and that your site meets fire safety codes. Under this permit, your employees should know how to use fire extinguishers, and your site should be free of flammable substances before equipment use.
Working at heights permits: If your project requires your employees to work at higher elevations, like on rooftops or walls, you can protect them with working at heights permits. This permit type will ensure you have the proper equipment for working at higher elevations, like barricades, ladders and scaffolds. It will also require you to consider weather and property conditions, like wind speeds and tree placement. If employees are working on the roof, you will also need a roof access permit.
Confined spaces permits: Some construction projects require employees to fit into tight spaces, like between walls or in sewer pipes. Like other permits, a confined space permit will ensure the area is safe to work in and that your employees have the necessary qualifications. It also aims to protect your workers from serious injuries.
Electrical and plumbing permits: If your team must install electrical wiring or pipes on a property, you will need to obtain an electrical or plumbing permit, respectively. These permits ensure your employees understand the local requirements and restrictions when building these systems so that the finished product aligns with health and safety standards.
Understanding what type of permits you need during the initial planning stage of construction can help prevent delays later, creating a quicker job that stays within your client's preferred schedule. Planning for and obtaining all the necessary permits will help you pass inspections and avoid timeline extensions.
2. Provide Thorough Training
While many permits require your employees to have the necessary training to ensure safety at the job site, proper training also provides your workers with the know-how to carry out tasks efficiently. Employees who know what they're doing will perform tasks more quickly than those who need guidance. Providing individuals with quality training teaches them good habits for quickly completing jobs to remain on schedule and prevent delays.

You can train your employees in specialized tasks to ensure you have a well-rounded construction team. You can also provide time-management and communication training to give managers and supervisors the necessary skills to run smooth construction projects. All types of training offer long-term benefits you can apply to many projects, but training your supervisors and job site managers to communicate expectations with their team and manage tasks well can especially help defend against holdups and issues on projects.
3. Invest in the Right Equipment
In your project's planning stages, you can help your team avoid future problems by developing a thorough plan for your equipment. When considering which equipment to use, you have many factors to consider, like:
Size and power: In addition to the types of equipment you should use, consider their size and power. If you are using your equipment to transport heavy materials across your job site, it might require higher power capabilities. Alternatively, if you need to cover larger spaces, you can increase your efficiency by investing in equipment that will handle moving at faster speeds.
Equipment age: Newer equipment is often more efficient and will include the latest technological advancements, helping improve your workflow and work quality. Using new equipment can be a long-term investment that ensures you provide quality care to your projects for longer. Manufacturers frequently design new equipment that can better handle modern construction standards and limitations.
Site limitations: You can prevent delays when arriving on-site with your equipment by ensuring it fits its needs. Consider the ground condition and level, as a rocky, uneven terrain will require different equipment than grassy, smooth grounds. Sites with limited movement may require smaller equipment to navigate tight spaces more effectively. Knowing what you need before requesting equipment can help you start your project as soon as possible.
Rentals: A great way to save money when investing in equipment is renting. Renting will allow you to match your equipment to each project's requirements, and you can save money by only renting for the time you need. Rental companies often have a wide selection of products, so you can find everything you need in one place and select the appropriate equipment for every project, including new models. With access to rentals, you can choose client projects you may not own the equipment for.
Transportation: Save time on your projects by creating an efficient transportation plan. Getting all your equipment to your site when you need it can help you avoid setbacks and ensure you start construction on your intended schedule. Many rental companies offer delivery and pick-up services, so you can save time and money moving equipment and redirect your attention back to on-site operations.

Selecting the right equipment can ensure projects run efficiently, but renting offers several unique benefits that can further speed up construction and save you money.
Attachments
Choosing equipment is only the first step in the acquisition process, and you can further ensure efficient construction by considering all your equipment needs. Attachments are a great way to help you save money and create more optimized uses of your equipment by allowing you to expand its functions. With attachments, you can do more with less equipment, which will cost you less money.
Attachments also help you get what you need to complete your job. Many attachments provide specialized functions, so you can complete tasks more proficiently and ensure high-quality results. Some standard attachments include:
Augers
Buckets
Trenchers
Forks
Rakes
Hammers
Cement mixers
Wood chippers
Tillers
You can even rent the attachments you need alongside your rented equipment to save money and better customize your equipment to your current project's needs. Rental companies offer a wide selection of attachments for you to consider and can help you pair the right ones to your equipment and construction requirements.
Equipment Maintenance 
As a part of your planning process, schedule maintenance for all the equipment you want to use for your projects. Ensuring your equipment can perform at its best before starting a project can help you avoid interruptions from equipment failures during construction. Further, regularly maintaining your equipment protects its quality so you can continue to use it on projects and ensure it functions as intended.

Backup Equipment
While detailed planning can help you avoid stops and problems down the road, it is difficult to predict every issue you may face. Even after choosing the best equipment and regularly servicing it to maintain your investment, you may still experience equipment failure during construction. In these cases, you will want to have a comprehensive backup plan to ensure you can avert extensive project delays.
You can plan for equipment breakages or failures by working with local rental companies, which can quickly provide you with replacement equipment. Having convenient replacements on hand will help you get back to work while your existing equipment receives service. Since many rental companies deliver equipment, you can receive replacements quickly for minimal setbacks in your schedule.
If your equipment and tools require electricity to run, consider investing in backup generators. Unexpected storms or other challenges can cause your job site to lose power, making it more difficult to get work done. Investing in tools like backup generators and alternative power sources can help your construction teams bounce back from expected obstacles and say on task.
4. Prepare Your Employees
While equipment is vital for carrying out jobs and tasks on-site, you will need to put together the right employee teams to manage equipment and handle other assignments.
Training your employees helps you mold them into flexible assets who you can trust in several scenarios and who will manage all situations that arise on the job site. Many workers develop essential skills while working that are difficult to teach — create a team with a mix of skills and experience levels to create an efficient and qualified job site. When your employees have the tools and resources they need on-site, they can save time waiting for external assistance and take charge.
Collect performance data on your employees and use it to assign dependable individuals to your projects. Further, determine company values you want to enforce, like timeliness and problem-solving, so your employees know what they need to apply to each job site.
Employee Communication
Developing strong communication methods can help on- and off-site teams work together better. While you will formulate a pre-construction plan to reduce delays, your employees may experience unpredictable challenges that require external resources once construction starts. Encouraging regular updates and communication helps teams address issues and develop solutions as soon as possible, resulting in shorter delays and more accurate schedule adjustments.

Further, when you are aware of changes on-site, you can better communicate any challenges to your client so they are always in the loop.
When you have dependable communication methods where employees are comfortable reaching out to their superiors and other teams, you can better see and understand inefficient methods and work areas. Each job can reveal new information about your company's construction process and illuminate areas of improvement for your employees and teams.
Backup Teams
When you are selecting the best people for the job, sometimes external factors arise and employees need to take time off. Unexpected changes in team member availability can cause interruptions on-site as the rest of the team tries to compensate for having fewer people than they need. Missing team members can slow down schedules and the construction process as a whole, especially if only one or a few individuals hold the necessary qualifications or experience to carry out specific tasks.
To help combat this and defend against setbacks, have backup teams and employees ready to take over on the work site when people call out of work. Having fluid teams and many employees who can step in at a moment's notice can help keep construction sites running smoothly and meeting all necessary deadlines.
Motivation and Bonuses
Proper motivation is essential for ensuring quality and efficient work. One study found that motivated teams and work environments saw a 21% increase in overall company profit and a 41% reduction in employee absenteeism. When employees have the right motivation to work, they will put in a higher effort to reflect well on overall company performance.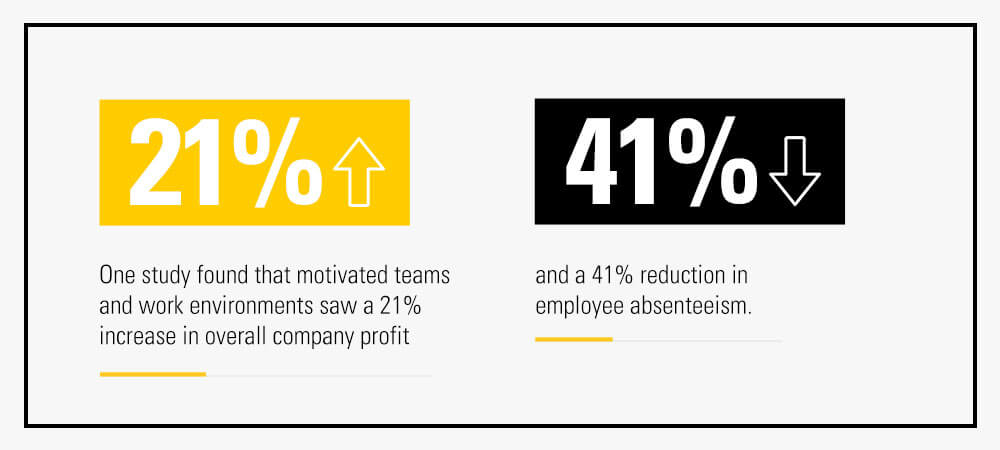 Overall, motivation breaks down into two factors — intrinsic and extrinsic motivation. Intrinsic motivation is internal incitement sparked by personal goals and desires. As an employer, you can encourage employees to set personal improvement goals to motivate them to work toward a specific objective, including building more experience, refining a skill or earning a certain qualification.
Extrinsic motivation, however, arises from external factors, like rewards. Employers can offer incentives to employees to encourage them to work harder and better on projects, like employee of the month recognition or bonuses. Employees can track their progress toward material incentives like bonuses through feedback or growth programs.
Construction companies can encourage motivation by offering bonuses for completing projects ahead of schedule. This incentive can motivate your teams to work more efficiently and use all their resources to their advantage to progress toward their bonus. Motivating employees can help you make business-wide changes, especially for companies trying to more effectively meet deadlines and work efficiently. However, you will always want to ensure teams maintain your company's quality standards when working toward bonuses.
5. Communicate With External Teams
When working on construction jobs, you will need to communicate and work with teams and individuals outside of your company to complete the project successfully and smoothly carry out all necessary processes. Knowing the information you will need to communicate to these other teams can help maintain good relationships and ensure all tasks remain on schedule.
Working With Subcontractors
While you have a team of highly qualified employees, you may need to outsource certain jobs or tasks to subcontractors to complete specialized assignments. Working with subcontractors can provide several benefits, like offering high-quality services for your customers and creating a safer environment for employees by delegating tasks to specialists. You can also save time and money spent training employees by seeking a subcontractor.
However, because subcontractors are third-party team members, you will need to establish strong communication methods to ensure they meet company and client expectations and timelines. Going over timelines and project deadlines repeatedly with subcontractors assists them in understanding how quickly they need to work, which can avoid interruptions on-site.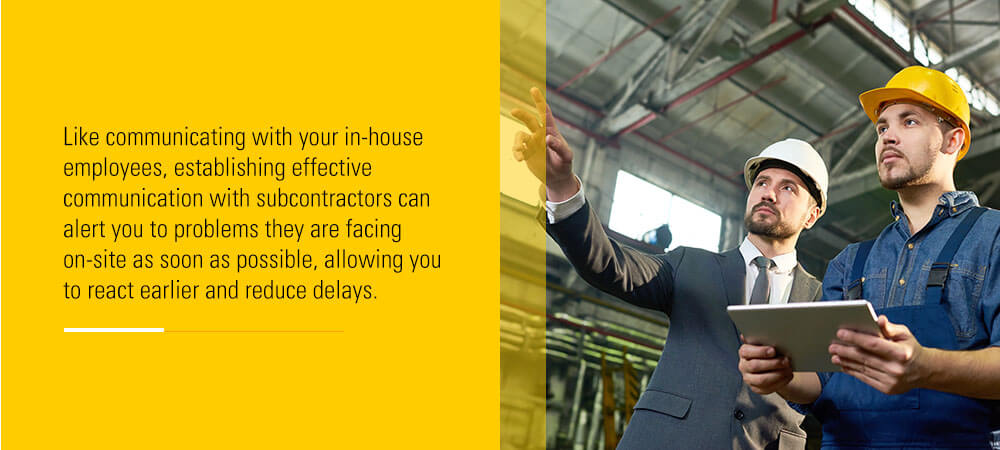 Like communicating with your in-house employees, establishing effective communication with subcontractors can alert you to problems they are facing on-site as soon as possible, allowing you to react earlier and reduce delays. Whether they need extra materials or equipment, you can better meet their needs and ensure the job gets done on schedule while meeting quality standards.
Solidifying reliable relationships with subcontractors can be a powerful tool for preventing holdups on other projects. When you work with subcontractors and take the time to listen to their needs and ensure they understand expectations, they will have a more positive experience working for your company and be a reliable resource. If unexpected issues arise in the future, you can call on them for assistance while knowing their skill set and understanding of company values.
Maintaining Customer Expectations
Just as staying in communication with your employees and subcontractors is essential for understanding plans and progress on-site, keep your client updated on this information by regularly communicating with them. Since your client is requesting the work, you want to ensure any changes you make meet their expectations and standards.
Further, if your client changes their mind about certain details or doesn't like how the project progresses, you can address these problems and develop an updated plan sooner. When clients can voice their opinions, they help you save time and money by having fewer things to adjust, allowing you to stay on your agreed schedule.
Working out your initial plans with your customers is a crucial aspect of avoiding any future issues. When you work with your client in the planning stage, you can incorporate everything they want into your plans and have their approval on your processes and ideas. Including your client in every step of the construction process can prevent added reworking in other stages.
6. Obtain Materials Quickly
Planning your materials aids in circumventing stoppages and improves construction efficiency. When covering project requirements, perform careful measurements, estimate what you will need and consider investing in extra materials. Having a surplus of materials when you begin working means you won't have to wait as long for supplies to arrive if you run out, and you can order more materials ahead of time.
Depending on your materials, you may receive supplies that don't meet your standards, like bent nails or mismatched roof tiles. Ordering more than you need can compensate for any faulty materials or allow you to begin your project while waiting for a second shipment.
Rent Your Construction Equipment From MacAllister Rentals
From early planning processes to updates during project construction, construction companies can implement several tips and techniques to help them stick to their project timeline. Further, working efficiently can help you create stronger client relationships and impress them with your quality and speed, allowing you to stand out from competitors.
Improve your efficiency at the equipment level with help from MacAllister Rentals. At MacAllister Rentals, we offer high-quality construction equipment from trustworthy manufacturers like Caterpillar to cover numerous construction applications. With us, you can find the equipment and parts you need. We have many locations throughout Indiana and Michigan's lower peninsula, allowing us to deliver equipment to your job sites. Additionally, we provide top-notch customer service, guiding you through the rental and post-rental processes.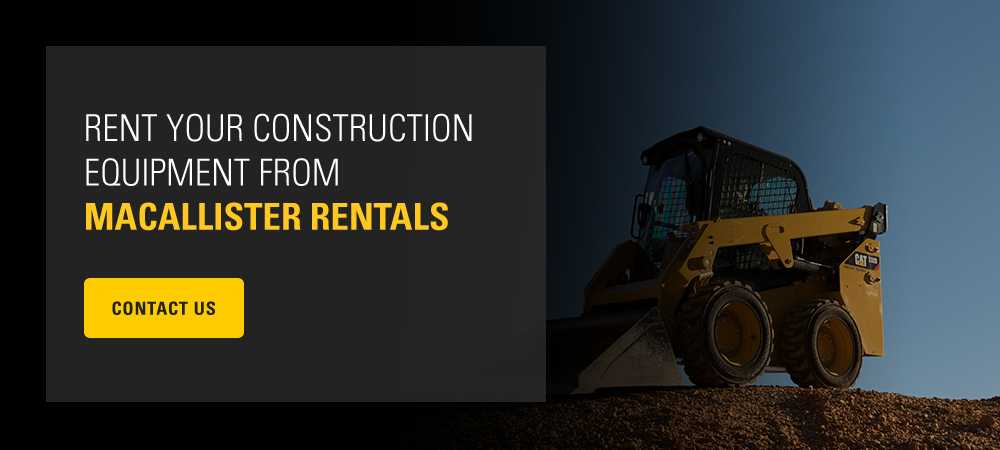 Contact MacAllister Rentals today and discover how we can help improve construction efficiency for your next project.