The best digger for a jobsite depends on a variety of variables. The choice of backhoe vs. excavator will determine how quickly a job gets done and the efficiency level of the crew. Find out the options available for equipment rentals as well as the factors that play into making an appropriate decision for the jobsite.
Jump to Section:
Digger Options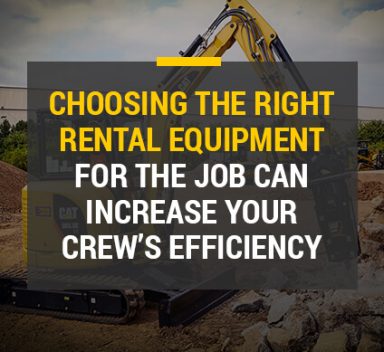 Choosing whether a wheel or track excavator will best work on your jobsite requires you to first know the types of jobs these pieces of equipment best work for. Additionally, understanding the specifications of each type of equipment will make selecting attachments to include with the rental an easier choice.
While backhoes and excavators have many similarities in appearance, they differ significantly in the places they can operate and the loads they can move. Attachments increase the number of tasks the equipment can handle, but like the devices themselves, the added features need to align with the job's requirements.
1. Backhoes
Backhoes have a tractor center with various attachments that make these common at jobsites. Typically, a backhoe will have a loader on one end and a bucket on the opposite end, but they can also use other tools such as hammers as optional attachments. The tractor wheels allow for backhoes to drive on roadways to move between jobsites.
A pair of stabilizer legs with shoes affixed to them sit next to the rear wheels to prevent tipping during digging. For pavement, the operator puts rubber shoes onto these legs to avoid damage to the ground. However, when working on dirt, grouser shoes, which do not have rubber, hold the legs steady in the soil.
The bucket and loader both use hydraulics to move the components. The mechanics of hydraulic operation allow a worker with a backhoe to dig a 10-foot long, 5-foot-wide trench in a quarter-hour. Hydraulic fluid transfers force through the backhoe from the operator's joystick movement to the arm's shifting.

When considering backhoes, look at the dig depth of the equipment. Most models will dig down to 12 to 16 feet. Most operators do not use backhoes for applications requiring depths more than 10 feet. Those that can dig deeper will have more horsepower, at least 100 HP, which allows for digging more than 17 feet deep. Such power comes only with extremely large backhoes designed for heavy-duty projects such as highway construction.
The horsepower of a backhoe indicates the amount of engine power available, which correlates to the amount of effort the equipment can put out. Higher horsepower in the engine relates to a tougher backhoe capable of moving heavier loads.
For digging, other factors include the breakout force, which indicates the force the arm can put out to move a load. The two parts of the arm — the stick and boom — each have individual ratings showing how much weight they can handle. These ratings become important when digging through or moving heavy materials.
2. Track Excavators and Mini Excavators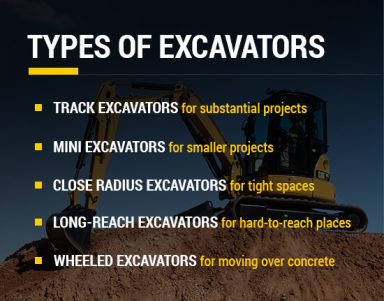 Unlike backhoes which have tractor wheels at the center, excavators may have tracks or wheels for their undercarriage. Tracked excavators may be full-sized or mini. These types of diggers cause less ground disturbance and can operate securely on a variety of terrains.
Mini excavators work well for smaller projects over turf or other surfaces that cannot support wheeled full-sized equipment. For interior use or small projects where a diesel engine and its output could pose a problem, electric mini excavators offer an alternative to diesel-fueled models. The electric models are even more compact than mini excavators and ideal for small projects that require holes no deeper than 62 inches, which is the max depth.
Full-sized track excavators excel at digging for substantial projects. Whereas backhoes can have multiple attachments added to increase their uses, excavators do one thing and do it well — digging.
Compared to backhoes, full-sized excavators weigh much more. Standard excavators start at 96 HP and 33,407 pounds compared to backhoes that we rent start at 87 HP and a weight of 22,466 pounds. For heavy-duty work and extra digging power, excavators have the added force from their engines to accomplish the job.
Weighing at least 50% more than backhoes, excavators require land that can support their weight, which is one reason excavators have an option for choosing a track for the base. For specific tasks that require digging only but do not have ample space for a standard excavator, mini excavators are the best fit. These excavators work well for small projects such as stump removal or working in alleyways or other narrow passages where larger equipment cannot fit.
For other tight spaces that require more horsepower than a mini excavator can deliver, there are also close radius excavators. Designed for the narrow confines of urban construction, these models have up to 97 HP, making them not as powerful as standard excavators, but they fit well in tight spaces.
Long-reach excavators have a bigger arm to extend the reach of standard models. These make digging in hard-to-reach places easier. They work well in natural environments such as realigning watercourse banks or in sand or gravel pits.
Track excavators excel in tough terrain, but they cost more to maintain and purchase.
3. Wheeled Excavators
Wheeled excavators have the same benefits as standard models with tracks. The wheels, however, allow for these excavators to move only over concrete. If taken over uneven terrain such as snow, the wheels may slip.
While tracked excavators have the advantage in mud and snow, wheeled equipment costs less upfront and to maintain. If situations allow for the use of wheeled excavators, the overall cost of the project can drop compared to the track excavator option.
4. Trenchers

Trenchers dig long, narrow ditches and are typically used in laying utility lines. This type of equipment comes in several forms, including walk-behind, ride-on and attachments. Smaller than excavators and backhoes, trenchers work best for digging relatively small, long trenches.
Ride-on models are self-propelled and capable of creating the deepest and widest trenches, up to 60 inches deep and 12 inches wide. The actual depth and width depend on the model. For example, a Vermeer V3550 can create a 5-foot-deep trench measuring 6 inches wide, but the same brand's RTX450 makes a 5-foot-deep trench 12 inches wide.
Walk-behind models require the operator to stand at the rear of the trencher, directing its motion. These types of trenchers can dig down to depths between 18 inches and 48 inches, depending on the model. Widths of the trenches can measure as narrow as 3.25 inches and as wide as 10 inches across.
Trencher attachments transform skid steer loaders, compact track loaders and other equipment into trenching devices. For projects that already require another piece of equipment and digging trenches is a secondary action, using attachments will be a more economical choice than renting multiple pieces of equipment.
5. Attachments
When using a backhoe, steer skid loader, compact track loader or multi-terrain loader, attachments increase the number of uses of the equipment. Their versatility and tool options make these devices suitable for a wide variety of jobs, not just digging.

For Cat® equipment, work tools have a universal quick coupler system that allows for interchangeable use on backhoes, steer skid loaders, multi-terrain loaders and more. Attachments that can help with digging projects include buckets of various sizes for removing dirt and stone and different loaders for shifting the loads after digging.
Dirt buckets: These buckets are ideal for carrying dirt.
Utility buckets: These attachments have a structure best for grading and leveling lightweight materials such as dry soil, animal feed and mulch.
Multi-purpose buckets: These can handle a variety of loads and situations.
Augers: Augers dig straight, deep and round holes.
Trenchers: These devices create long, narrow trenches for utility work.
Light material bucket: These buckets hold lightweight materials.

You should only choose attachments if digging serves as a secondary task and the work requires the use of another piece of equipment such as a backhoe or multi-terrain loader. While these typically get the job done for general use, they do not perform as well as excavators, which are designed to have extra power for deeper, wider digging.
Factors to Consider
When selecting the right digger for a task, several factors will play roles in the decision. Two major categories will break down into separate factors — jobsite conditions and digging required. Different situations, even weather conditions, can change the equipment needed for digging tasks. For instance, inclement weather or treacherous terrain will necessitate a sturdier undercarriage that does not sink into the soil. However, working over several sites connected by paved roads or needing versatile equipment may require equipment that can travel quickly over concrete.

The equipment's weight or undercarriage may prevent it from use on some jobsites. Wheeled excavators will damage delicate soil, whereas track models will not. Similar to the jobsite restrictions on equipment are the conditions of the area and the soil composition. Digging in the snow on a small worksite in the city requires different equipment from making a deep trench along a roadside.
The digging done will also help to determine the best equipment for the job. Deeper and broader holes require either more work or more powerful equipment. Also, consider whether the job requires only digging or removing and moving soil as well. Dual tasks require more versatile equipment compared to tasks that only need excavations.
1. Jobsite Equipment Restrictions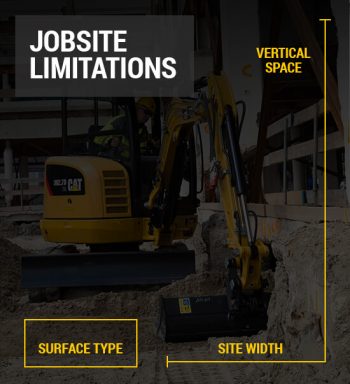 Jobsite restrictions will limit the equipment choices. First, consider any height limits in the area. Overhanging trees or wires will reduce the maximum height allowed for any equipment in the area. When working indoors, physical ceilings and overhead beams will also restrict the height of the equipment used. In situations with limited elevation, look closely at the height of the excavator or backhoe used for the job. Both the height of the arm during use as well as the total height of the equipment when moving will be significant when choosing devices to work in areas with reduced heights.
The width of the equipment will also make a difference. Some narrow areas may require mini excavators or close radius models that work better in tight spaces. Getting the equipment to the jobsite through driveways or passages also will be a factor in choosing the right digger for the job. Measure all openings from the equipment unloading site to the jobsite to ensure adequate space for getting everything to the work area safely.
While digging does not always occur inside, in some instances, utility work may necessitate it. For such uses, an electric mini excavator may be the best option. These models do not use diesel engines that have exhaust, which is dangerous in enclosed spaces. The mini electric excavators are much smaller than their fuel-burning counterparts, allowing for more natural movement into a building.
The type of surface on the jobsite will also restrict the type of undercarriage for any equipment used. Only drive wheel-bearing backhoes or excavators over the pavement. Track models work best over soil because they cause less damage to the surface and get better traction.
2. Soil Composition
The composition of the earth will dictate the amount of power the digger must have to move through it. Excavators have more horsepower than backhoes, making them ideal for digging into dense material or creating deeper holes.
If the soil has rocks, ice or pavement over it, the equipment may require a hammer or pick attachment to break through the top. Changing to a bucket after breaking up the surface allows for digging into the material and removing the broken parts from the surface. Backhoes with multiple attachments may serve this multipurpose work better than a basic excavator.
Regardless of using a backhoe or excavator, the bucket for the digger must support the weight of the soil. Heavy clays or rocks will require heavy-duty buckets capable of holding the heaviest loads.
Buckets made for lightweight materials will suffice if moving dry soil or light sand. The digger must have the power to handle the load in the bucket used.
3. Jobsite Conditions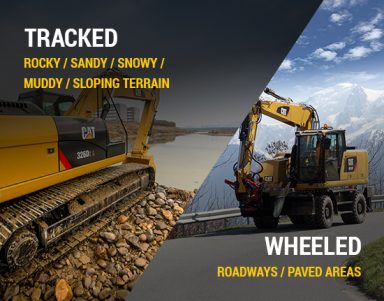 The conditions on the jobsite can change quickly, based on weather conditions. The type of terrain and weather will also determine the kind of digger appropriate for the task.
For instance, the layout of the terrain will help determine whether a heavy excavator or a more mobile backhoe will be better. Rocky, sandy, snowy, muddy or sloping terrain all require tracked equipment that can better move over uneven surfaces. Tracks give the equipment better stability in such situations.
For moving over roadways or paved areas, wheeled backhoes or excavators offer greater mobility between worksites. Never drive wheeled equipment over dirt unless the ground will have surface repairs to fix the damaged sod. Wheeled backhoes and excavators have designs to reduce their maintenance costs as long as they only drive over pavement. For on-road use, choose wheeled equipment. Off-road work needs equipment with tracks to reach the digging site.
4. Width to Dig
The type of hole required will also play a role in the best digger for the job. For narrow trenches no wider than 12 inches, choose a trencher. This type of equipment makes small openings in the ground suited for laying piping or other utility components.
Generally, the wider the hole needed, the more power the digger needs to have. Additionally, it must handle a larger bucket to create bigger holes. For excavators and backhoes, the size of the bucket will determine the width of the space dug. To generate wider openings, the operator can use the bucket multiple times in the area but doing so wastes time. Selecting the right equipment first will ensure the most efficient work.
5. Digging Depth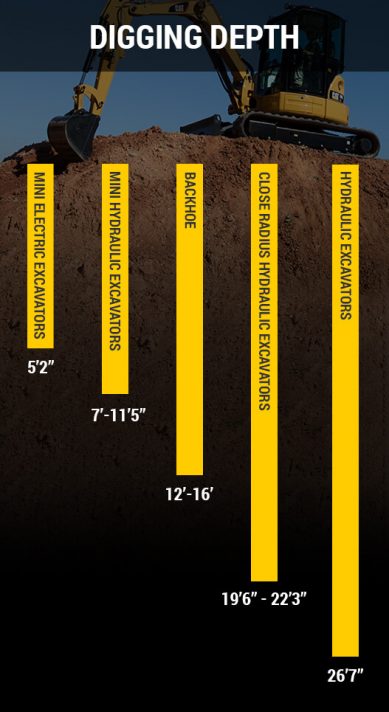 How deep the hole needs to be will impact the size and power of the digger. For instance, backhoes typically dig 12 to 16 feet deep and work well for standard digging projects or those that do not need very deep holes. For major digging of foundations or other large, deep spaces, excavators offer a better alternative.
Excavators vary in their depth, depending on their power levels and size. Mini electric excavators can only dig down 5 feet, 2 inches. Mini hydraulic excavators have more power and can reach down between 7 and 11 feet, 5 inches. These tiny excavators do not have as much engine power as their larger counterparts, maxing out at 47 HP for the most powerful model.
Close radius hydraulic excavators take up less space for narrow areas and can dig down 19 feet, 6 inches or 22 feet, 3 inches, depending on the model. Horsepower for these models is 90 HP and 55 HP, respectively.
The deepest diggers are standard hydraulic excavators. These also have the greatest horsepower. The most powerful has 243 HP and can dig to a depth of 26 feet, 7 inches.
It's important to note on all excavators that because the stick length varies, the depths listed may change based on alterations to the stick. Always check on the specifics before finalizing a rental of any digger to ensure the equipment will reach the necessary depth.
6. Digging Only or Digging and Moving
While focusing on digging depth is an essential part of deciding on equipment, if the job has many tasks, digging will play only a small role in the decision. Not all digger tasks will require only digging. Some situations need equipment to both dig and move the dirt or rocks removed around the jobsite.
As good as excavators are at digging, they excel at one thing like humans who are experts at one thing and need help with other jobs. For multi-purpose operation, take advantage of the many work tools from Cat that quickly change on skid loaders, multi-terrain loaders, backhoes and compact track loaders.
Smaller skid loaders, multi-terrain loaders and compact track loaders work well when the job requires multiple tasks without needing the extra power offered by backhoes. Such equipment works well on farms and small worksites that require digging and grading the area to create the desired terrain.
Backhoes best serve larger projects that need multiple attachments on equipment. If an excavator is too large and skid loaders too small, a backhoe is a perfectly sized option for digging and moving dirt. It also has more horsepower than a smaller skid loader or multi-terrain loader, which top out at 74 HP.
With more horsepower, backhoes can make better use of the numerous attachments available. For instance, hammers can break up asphalt that the bucket scoops up and moves away. For use in natural areas, grapples can pull out tree stumps to clear out a space for digging.
Whether preparing an area for digging or moving around the dirt removed from the hole, the numerous work tools available for backhoes, multi-terrain loaders and other similar equipment make these excellent options for projects that rely on versatility.
Still Can't Decide? Let MacAllister Rentals Help
If you still need help deciding on the best digger to rent, ask us at MacAllister Rentals. We offer Caterpillar equipment and other well-known brands. We only offer rental equipment that meets our high standards for quality with second-to-none service and support.
Find one of our many locations in Indiana and lower Michigan nearest you for service or to get the digger rental best suited for the job you have at hand.