Most boom lifts are self-propelled units that can be used for indoor or outdoor jobs. If you have access to a commercial work truck with the appropriate towing hitch, you can take advantage of towable boom lifts.
What Are the Main Features of a Towable Boom Lift?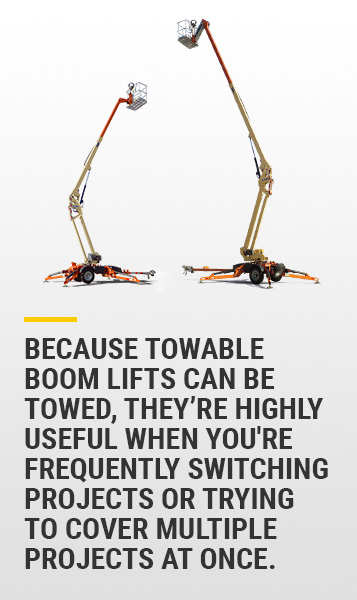 In situations where portability is important, renting a towable boom lift is perfect for the job. Towable boom lifts can reach heights between 10 and 60 feet and have platforms four to six feet wide.
These aerial lifts can be gas, diesel or electric-powered.
Specialty Uses of Towable Boom Lifts
Towable boom lifts are ideal for the following projects:
Building maintenance
Outdoor decorating
Outdoor projects
Utility work on telephone, cable and powerlines
Replacement of ladders for fire stations
Washing windows
What Should You Consider Before Renting a Towable Boom Lift?
Towable booms require necessary transportation equipment. If you are renting this type of aerial lift, consider proper and safe methods for transporting the lift to and from each jobsite.
Benefits of Towable Boom Lifts
Towable boom lifts can be towed from jobsite to jobsite — making them an acutely-portable option. This functionality makes them incredibly useful when you're frequently switching projects or trying to cover multiple projects at once. It also saves fuel by relying on another vehicle, that likely gets better gas mileage, for long-range transportation.
Towable boom lifts are a great option for those who will use them on a regular basis. Their small size means they can be stored in many garages, pole barns and warehouses when not in use.
---