Atrium lifts are useful in a variety of indoor and outdoor jobs. The design of the atrium lift base usually includes extendable legs to stabilize the lift. This limits their indoor usage to wide, open spaces such as warehouses, gymnasiums and other open projects. Atrium lifts are popular among the industrial or commercial sectors for this reason.
Most atrium lifts have a Z or S-type articulated knuckle boom.
Features of Atrium Lifts
Most projects can be completed with a platform height of 55 feet and a horizontal outreach of 21 feet. For extreme situations, you'll likely want to rent an atrium lift with a higher platform and outreach length.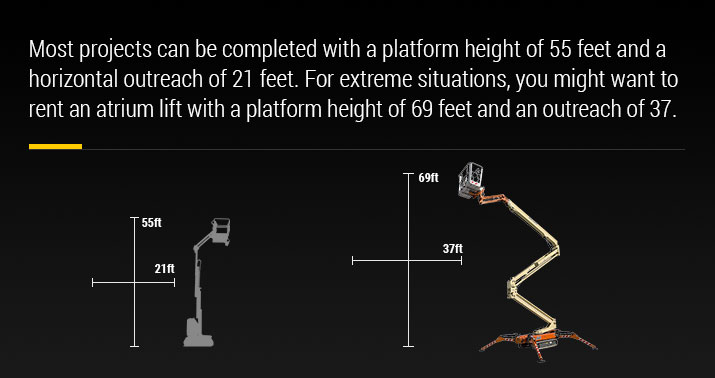 Atrium lifts typically have a platform width of three feet and a length up to 20 feet. Atrium lifts are lightweight, compared to more heavy-duty aerial lifts. The lift's vertical reach is between 50 and 70 feet, while its horizontal reach can extend up to 40 feet. Atrium lifts can be diesel, gas or electric.
Atrium Lift: Specialty Uses
Some organizations use atrium lifts to aid in wildlife inspection, control and removal. Instead of carrying step ladders and bulky extension ladders, many have introduced the modern atrium lift to their professions.
Although most atrium lifts are seen in the construction industry, they have a myriad of potential creative uses. Regardless of your exact needs, MacAllister Rentals is here to help you get more done.
What to Consider Before Renting an Atrium Lift
When considering an atrium lift rental, look at the final platform height and the horizontal outreach of the model. You may also want to consider if your job can accommodate outriggers to keep the atrium lift in place.
What Are the Benefits of Atrium Lifts?
One of the benefits of renting an atrium aerial lift is its ability to turn the bucket a full 360 degrees. The machines are ideal for maximum elevation in small areas and provide an extremely high reach.
---