If you've recently formed a new construction or landscaping company, you need every available advantage to keep up with your competition. One of the biggest hidden advantages you can have is choosing to rent the equipment your work calls for.
Jump to Section:
Owning or operating a company has its risks. However, you can mitigate your risks by exploring the benefits of renting for startups. With the pros far outweighing the cons, it makes the most sense to rent your equipment instead of committing to buying your own. To reassure you that renting is a smart and strategic move, here are the ten top reasons why renting equipment is the ideal choice for new companies:
1. The Right Equipment and Attachments for the Job
It's nearly impossible to do a good job without the right equipment or work tool attachments. When you're starting out, it's highly unlikely you'll have the financial strength to purchase the equipment you need. Renting equipment allows you to have the right tools and attachments you need for each specific job. By renting, you'll have exactly what you require when you need it, and you'll only keep and pay for it for as long as you have it.
Even if you've already made an investment and purchased your own equipment, you might start to encounter jobs that are out of scope for your equipment. As your business grows, it's inevitable that you'll be asked to complete more and more projects of different sizes and requirements. Relying on the same one or two pieces of equipment won't be an efficient solution to this fortunate problem. Attempting to do too much with equipment that's too small will take longer and cost you more. On the other hand, smaller jobs that require more refined work could suffer from the overkill of your larger equipment.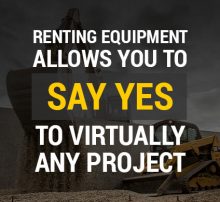 Additionally, there's a variety of work tool attachments out there that allow you to say yes to virtually any type of project. But some attachments are only designed for certain types of equipment. Without the right equipment, you'll be missing out on the effectiveness of some of these versatile attachments, and you may even be taking safety risks.
Renting equipment gives you immense versatility, including the many work tool attachments that turn your equipment into complex multitaskers. For example, you can rent a skid steer and turn it into a trencher, brush cutter or a compactor. You also can make sure you have the safest, most efficient equipment for every job.
You have a wide range of equipment and attachments available through rental companies. They can supply more equipment choices than you could purchase at your start. For long-term success in construction or landscaping, it's wise to develop a great working relationship with your local rental dealer and let them supply the right equipment and attachments for the job.
2. Access to the Latest Technology
Renting your equipment also allows you access to the latest technology, and new equipment is constantly being made with significant advancements in productivity and safety.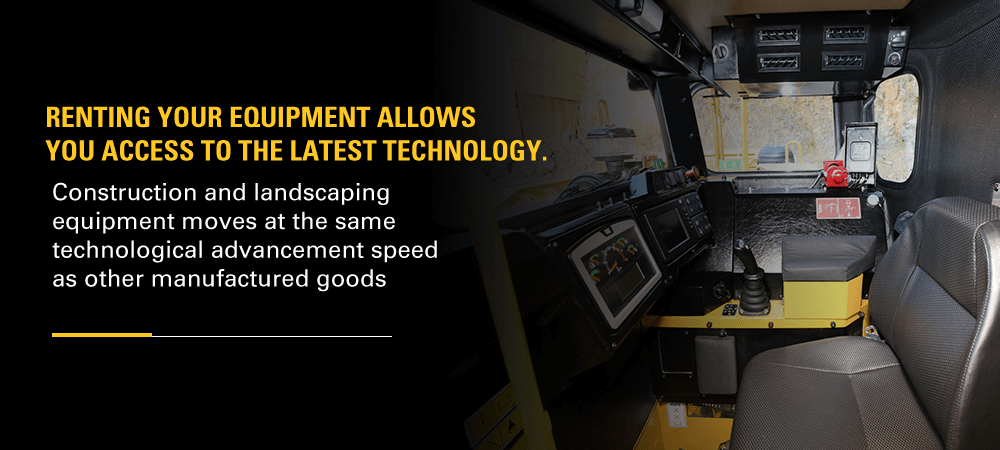 If you buy your equipment, you're unlikely to replace it any time soon since you need to keep it long enough to at least break even. Unfortunately, when trade-in time arrives, your once-new equipment could be old and obsolete, being replaced by newer, more technologically advanced versions.
During your ownership period, similar equipment will hit the market but with improved features. Unless you rent your equipment, your new business likely won't be able to take advantage of these improvements.
Here are some of the leading improvements that the latest technology offers in new equipment:
Improved hydraulic, pneumatic and electrical systems
Computerized system monitoring features
Advanced controls with ergonomic designs
Improved fuel consumption and emission restrictions
Robotic and GPS guidance operations
Highly effective safety devices

By renting, you'll consistently have first- or second-generation equipment and attachments in your hands. That advantage is hard to beat.
3. Improved Productivity and End Results
You've started your business to earn a profit. To do so, you have to maximize your productivity and finish projects on time and on budget, not worry about unexpected and costly downtime.

Renting equipment and attachments immediately allows you to do your work exactly when it needs to happen. Construction and landscaping work is often weather-dependent. You need to perform when the weather opens its window, and you don't want to be held back because you don't have the right equipment. That won't happen when you partner with a top-notch and reputable rental dealer.

By renting, you'll have access to the right size equipment for the job, which ensures you're working smarter, not harder. You'll also be assured the equipment is reliable and dependable equipment and doesn't present the risk of downtime. Partnering with a reputable rental dealer ensures you have access to top-end equipment that's the right model and capacity and comes with all the right work tools you'll need. It will also be well-maintained and operate at peak performance.
By delivering excellent results to your new customers, your business will earn a reputation for fast, high-quality work. Renting your equipment allows you to achieve better results, even when you're just starting out.
4. No Maintenance Costs or Downtime
All equipment requires regular maintenance. With maintenance comes downtime when your equipment or tool attachments are out of service. That's a costly venture both from maintenance expenses and the lack of income during work stoppages.
When you own your equipment, you're entirely responsible for maintaining it. It doesn't matter if you have a small construction company with earthmoving equipment or a startup landscape business that specializes in grounds keeping work. If you own it, you have to maintain and fix it. You also need to be aware and keep track of weather-related service needs and ensure you get your equipment serviced as the seasons change. This protects your investment and optimizes your equipment's performance. Those expenses come right off your bottom line.
Keep in mind that every project has a must-meet deadline. Unexpected downtime due to servicing issues can cause you to run a project into overtime. If you've scored a government or state contract, this failure to meet your commitment could come with costly fees for delays.
You don't run these risks when you decide to rent equipment. If you rent, you don't pay for maintenance or repairs, and you don't have to worry about servicing schedules. Your rental company looks after the upkeep, and you can keep on working. That's highly beneficial to your income stream and cash flow.

Every reputable rental company knows the value gained through regular maintenance. They can't afford not to maintain their equipment, attachments and tools. Therefore, when they deliver your order, you know it's in top shape, and you can trust it. These are some of the maintenance tasks you can expect completed when you rent your landscape and construction equipment: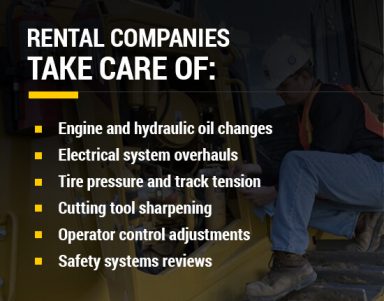 Engine and hydraulic oil changes
Electrical system overhauls
Tire pressure and track tension
Cutting tool sharpening
Operator controls adjusted
Safety systems reviewed
These tasks might sound simple and routine. They are, as long as the maintenance technician is trained and familiar with the equipment. However, as a new business owner, this might be more work and expense than you can handle with your skills and time. With rental equipment, you won't incur maintenance expenses or pay for downtime.
5. Limited Worries in Slow Time
If you've recently started a landscape or construction company, you're wise if you've anticipated slow periods and worked them into your business model. These two industries always have slow times whether it's due to weather-related stoppages or seasonal turns. This reality affects your workers' hours as well as keeps you from putting your equipment to profitable use.
If you own your equipment, you'll pay for it whether it's working or not. Most construction and landscaping companies finance their equipment, and that amounts to interest being paid at a fixed and steady rate. In slow times, when your equipment sits idle, the meter ticks and your bank account pays for it.
There's not much you can do about slow times and slow income unless you cautiously prepare for it. Part of your professional preparation is not having expensive equipment sitting on inventory when it's not required or can't be used. Having to pay out when you can't bring in causes worry, but it's a headache you can relieve with some thought.

The simple solution is to rent the equipment you need during your busy season. Then, when times slow, you conveniently return your equipment or attachments and let the dealer absorb the downtime costs. As work picks up, you rent what you need and build this cycle into your business plan.
There's another angle to slow time. You can capitalize on seasonal changes by switching to equipment and attachments that work well in the weather. That could be snow removal equipment or pumps to control excessive water. If you're worried about slow times, then renting equipment is your safest option.
6. Have More Working Capital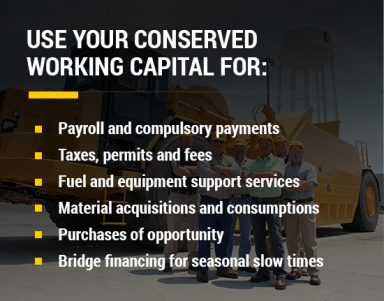 As a startup business, you'll likely have limited working capital. It takes money to open a business as well as to keep it operating. Cash is king in all businesses, and landscape and construction companies rely on positive cash flow. To be successful and thrive for years, you have to manage your cash or working capital.
Buying your construction equipment requires a significant capital investment. Even if you heavily finance your equipment, you'll have to pay a solid amount upfront. After that, you'll have financing installments, which put another hit on your bank balance.
If you rent your equipment, you'll have no capital drain or cash to put out. By renting, you'll conserve working capital, which you need to run your day-to-day affairs like:
Payroll and compulsory payments
Taxes, permits and fees
Fuel and equipment support services
Material acquisitions and consumptions
Purchases of opportunity
Bridge financing for seasonal slow times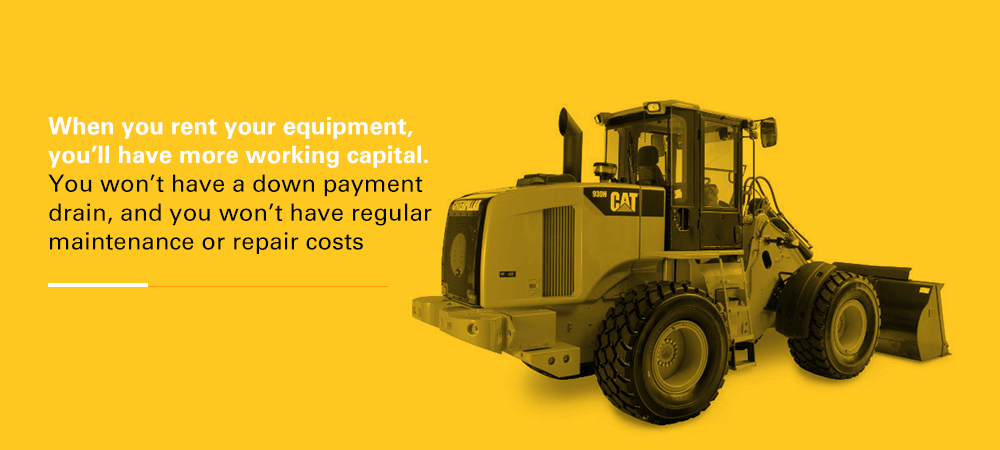 When you rent your equipment, you'll have more working capital. You won't have a down payment drain, and you won't have regular maintenance or repair costs. Your capital works for you instead of going out the window. For example, saving money with cost-effective rentals means you can fund the wages of new workers who have a wider variety of skills. Having a broader skillset on your team allows you to expand your business and take on more specialized projects. You can then charge more for your expertise and bring in more revenue. Saving capital is one of the many business benefits you'll have when you decide to rent your equipment.
7. Take Advantage of Tax Deductions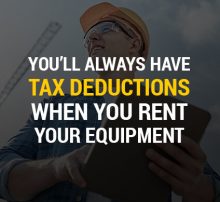 Taxes are a fact of doing business, and renting equipment has excellent tax implications. Rental equipment is a business expense, not a business asset like owned equipment. Since renting equipment is a direct expense, you can completely deduct your rental bills from your balance sheet. That's unlike owned equipment where you can only discount a complicated and calculated depreciation scale.
Deprecation only goes so far with deducting money related to equipment age and using it as a positive tax implication. After a while, your owned equipment will stop depreciating, and it will become a non-deductible liability that may still earn money but does you no good come tax time. This never happens with rental equipment.
You'll always have tax deductions when you rent your equipment. Whatever you pay to your rental company is a fixed expense equal to what you're allowed to deduct with other business costs like shop rental or energy expenditures. The tax implications you have with rentals are lucrative, and it's something you should discuss with your accountant or tax lawyer.
8. No Storage or Transportation Issues
The more equipment you acquire, the more costs you'll have with moving and storing it. When you own your equipment, you have to pay to keep it and transport it to and from your job sites.
You'll have far fewer storage and transportation costs when you rent equipment than you will with ownership. When you rent, your dealer can build drop off and pick up fees into your rental agreement. It's a cost you can budget for and include in your contracts.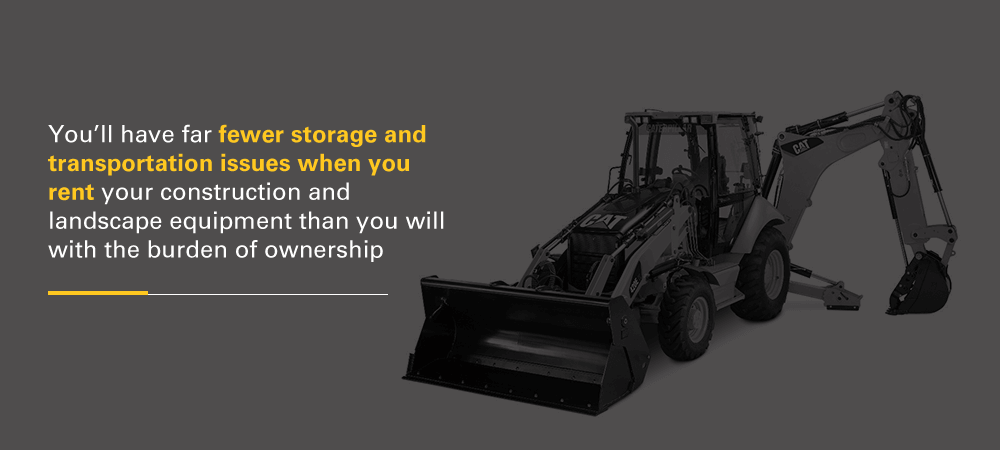 Transporting equipment requires expensive support systems. Depending on the type and size of the equipment, it might need a heavy truck, trailer and sometimes special permits. This is usually the case with transporting larger equipment, like excavators, which often require an oversized or wide-load permit to be on the road.
If you own equipment, you'd also have to own your transport method or expensively subcontract your transportation needs. As business picks up and you start managing multiple projects at once, these costs can quickly accumulate. If you do decide to take on the responsibility of transporting your equipment from site to site yourself, then you need to consider the added costs of insurance and legal requirements. Every vehicle on the road needs insurance, and that includes the trailer you use to tow your equipment. If you hire a professional driver to transport your equipment, then that's another wage cost you'll need to fund. And don't forget the legal implications if your transport is involved in a wreck. Large vehicles can do their fair share of damage, so comprehensive liability insurance is crucial.
In addition to transportation, storage is another issue that can get expensive. Land and buildings take space, and they put a substantial burden on your financial strength. By renting, you eliminate storage needs and the costs associated with maintaining the land and buildings. When you rent equipment, you won't have to worry about storage and transportation issues like:
Specialized transport equipment
Dedicated storage facilities
Workers to move equipment between sites
Damage caused by moving and storage
Equipment downtime while transported or stored

Fortunately, it's an easy issue to get around and access equipment when you have your rental dealer incur your transportation and storage bills.
9. Try Before You Buy
Renting your equipment or attachments gives you the benefits of trying the equipment before you buy it. This is a tremendous advantage that allows you to become familiar with a type or size of equipment ahead of time. Once you've tested it out, you'll know if it works for your typical operations and whether it's worth making a long-term investment.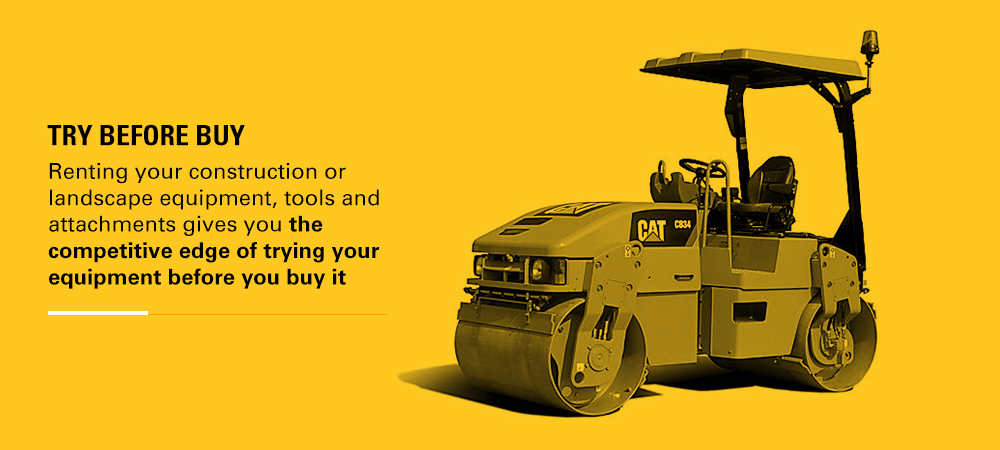 When you rent construction or landscaping equipment, you get an opportunity to test out what the equipment is capable of. You'll gain insight into whether the equipment can perform the types of projects you work on most often. You could be testing out powerful earthmoving equipment that digs, trenches and levels lots. Or, you could be getting a feel for the perfect material handling equipment and whether it's got the right maneuverability you need for tight spots. Most importantly, you'll need to know what capacity you require from your equipment. Knowing the correct equipment size for your needs is essential. Equipment that's too small will have you doubling your efforts and eating into your productivity. Equipment that's too big could be overkill and with that comes unnecessary operating and fuel costs. Large equipment could pose safety risks if the operator doesn't have the skill level required for the high capacity equipment.

Renting gives you the opportunity to take these factors into account before making a major investment in your new company's equipment fleet. Here is some of our rental equipment stock that you can try before you buy:
MacAllister Rentals offers you a complete line of equipment, attachments and other tools to help you start your business and build it into a profitable enterprise. We make sure you have the right equipment to do the job well and get excellent end results, so you can grow your company and continue to reinvest in your success.
10. Strong Competitive Edge
One of the most effective ways of having a strong competitive edge is by renting the equipment you need. Especially when you're starting out, you'll want to take every opportunity you're presented with, not leave money on the table. Renting gives you the flexibility to accept jobs that other companies might turn down. If your competitors own their own equipment, they may pigeonhole themselves into certain job types. Partnering with a reputable rental dealer means you'll always have access to the right tools for the job. And the more projects you can take on, the more you'll grow your market share in your area.

Large and leading companies like MacAllister Rentals started as small businesses with a focus on customer service and supplying world-class equipment like Cat® equipment. As part of The Cat Rental Store network, MacAllister Rentals consistently delivered superior performance that helped other startups prosper and profit. That dedication to first-class service, top-notch equipment and in-depth technological knowledge continues today.
Choose MacAllister Rentals as Your Equipment Supplier
At MacAllister Rentals, we rent, sell and service a large range of Cat equipment as well as high-quality equipment from over 50 other leading brands. To help your new business, we're dedicated to serving Indiana and Michigan with true partnerships that benefit you and help build your long-term success.
For more information on how MacAllister Rentals supplies rental equipment for new companies like yours, call us today at (877) 700-1945 or reach us online.