Your operations don't have to stop during the winter while waiting for the spring thaw. Renting winter construction equipment ensures you can keep your business going even in ice and snow. The most significant difference with winter work is the need to keep your equipment and workers warm. Renting the right equipment will help you do both.
Jump to Section:
Types of Equipment for Increased Winter Productivity
Winter introduces multiple new issues to job sites. The weather turns cold enough to pose a hazard to those working outside for extended periods, and the shorter days reduce the number of working hours available. You need both heat, light and ways to remove snow from the job site to continue working. We offer the equipment you need to do these jobs and get back to your main operation of construction.
To decide on the best winter equipment to keep your productivity high, you need to know what choices you have available. Milder weather may mean your job site only needs heaters and light towers. Exceptional cold that freezes the ground will require the use of ground-thaw equipment and snow removal gear if you need to dig or move earth.
1. Heaters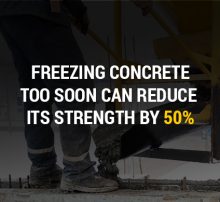 Heaters supply many work site services during the winter. One crucial job they do is keep materials from freezing. For example, the Portland Cement Association warns against allowing concrete to freeze until it reaches 500 psi in strength. Freezing too soon could drop the strength of the concrete by 50%. You will also need to keep components such as water and aggregates warm to ensure the mixture stays above 40 degrees Fahrenheit when you lay it.
Heaters used for keeping concrete and its components warm include the following:
Indirect-fired heaters keep freshly laid concrete from freezing while protecting the surface from direct heat.
Direct-fired heaters keep concrete warm as long as the surface does not have contact with the exhaust or heater.
Hydronic systems warm the ground in preparation for the concrete.
Using heaters to keep concrete warm is only one rental application. Keeping workers warm is another important task. By supplying job site heating, you can keep your workers more comfortable and productive. In extreme cases, you may save their lives by preventing cold-related illnesses, such as hypothermia and frostbite. Treat heat as an essential part of your work site during the winter to keep productivity high and reduce downtime.
When choosing heaters, select the right model based on the space you need to heat and the conditions. Larger areas and colder weather require heaters with higher outputs. Look at the square footage listed with the heater to find one perfect for the space you need to keep warm.
If you need portable heaters for your job, renting them gives you temporary use of these vital tools when you need them most.
2. Light Towers
Because winter brings shorter days, you must either cut your working hours or supply light to continue operations during the darker afternoons and evenings. Rental light towers offer 5,000 watts of light to flood the working area with bright light for working. Powering the light tower is an eight-kilowatt generator that runs on diesel on a chassis you can easily tow between work sites.

Lighting is crucial for protecting your workers. Illuminating a work site well keeps the area safer because employees can see obstacles and each other, which reduces accidents. Accidents caused by shadows cast from uneven lighting do not need to happen. Casting bright light over the area ensures the safety of everyone working.
The added lighting also stretches out the number of hours you can work during the winter. Even during the day, cloud cover, reduced daylight hours and the sun low in the sky all cut down on the typical lighting you would have during other times of the year. Bringing light towers to your work site will ensure you can continue working as long as you would at brighter times of the year.
3. Generators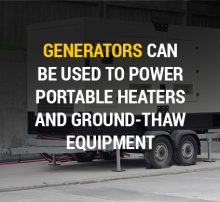 To power portable heaters, ground-thaw equipment and other electrical devices on site, you will need at least one generator. Your work site's power needs will determine the type of generator you need.
Generators vary in power and size. For example, smaller Honda portable generators can generate up to 6,500 watts of power or 7,000 watts for a few seconds for starting equipment. The Honda generator models we rent all adhere to OSHA regulations for both safety and emissions.
If you need a more powerful generator, we also have towable models from Kubota and Caterpillar. These generators can crank out up to 20 kilowatts of power to power almost anything you have on site. If you need to power a variety of equipment, you may choose to invest in one of these larger models.
Creating warmth on your job site requires using a significant amount of power. Make sure you have adequate electricity available to keep your power tools, heaters, ground-thawing equipment and other electrical devices running throughout the day.
4. Ground-Thawing Equipment
Construction projects often need fast, reliable ways of warming the ground before work. Frozen ground will not allow concrete to cure properly. It also makes digging more challenging. Portable heaters do not penetrate the ground enough to thaw it. For areas with frozen ground, use ground-thaw equipment to warm the space.

Having the right thawing equipment allows for faster warming so you can get back to work as quickly as possible.
5. Snow-Removal Equipment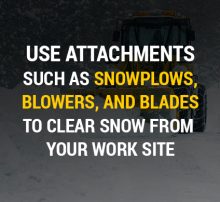 When you reach a job site and find a covering of snow, you need to remove it before you can start operations. To get rid of the snow as quickly as possible, you can convert your existing equipment with attachments such as snowplows, blowers and blades.
If temperatures allow you to run your heavy equipment, you can use a snowplow or other attachments to clear out the work site before operations begin. Depending on the type of work you must do, you may need to also use ground-thawing equipment to make the earth soft enough for working with.
Renting vs. Buying Equipment for Winter Construction Work
The problem with buying winter construction equipment comes during the remaining three-fourths of the year when you don't need the products. Renting offers you an edge in construction by cutting your overhead costs without forcing you to compromise work productivity during the cold season.
1. Temporary Need
Why would you pay for year-round use for the equipment you only use for a few months? Buying equipment and tools you only need for the winter does not make sense, especially when you can arrange for rentals to last weeks or months.
When you need specialized equipment for your job site, renting often makes more financial sense than buying. An added benefit from renting equipment for short-term use is that you won't need to find storage for it during the rest of the year. Unless you completely drain any fuel tanks and prepare the material for long-term storage, your investment in buying winter tools may increase with any maintenance needed. Incorrect storage could cause severe damage to your equipment.
Let our rental company store winter equipment during the warmer months. You enjoy low-hours equipment from well-known brands such as Honda, Caterpillar and Kubota. You can rent the equipment for as long as you need it instead of worrying about storing it when you don't need it.
2. Job Site Delivery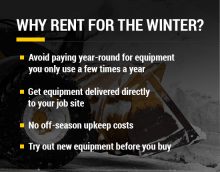 You already have enough to think about when it comes to getting the equipment you own to your work site. Renting equipment gives you the option for delivery straight to your work site. You don't need to worry about transporting both heavy equipment and smaller tools.
You can tow generators and light towers to various places around your job site. The portability of these tools makes it easier for you to use them where you need them most. Since you get delivery to your job site and pickup when you finish using these pieces of equipment, you have one less thing to worry about.
3. No Upkeep
All equipment needs regular care and maintenance. The more tools your construction business owns, the more time and money you must devote to caring for it. While equipment you use frequently will require more regular repairs, even tools you occasionally use still need the care to preserve them for when you do need them.
Do you have the time to regularly inspect and maintain the temporary equipment you use? If not, you should rent your winter gear instead of buying it. Doing so takes significant amounts of effort off your maintenance crews, who can devote more time to keeping your most essential equipment in top condition.
When you rent from us, we will store and care for the equipment during the rest of the year when no one uses it, so it's in good condition when you need it.
4. Try Before You Buy
Renting allows you to try out the gear before making your choice. When you rent, you can try out high-quality products in their best condition. This trial period will make it easier for you to make an informed decision on buying the right winter equipment for your construction site.

Benefits of Using Cold-Weather Construction Equipment
Using specific wintry weather construction equipment is extremely important, especially in snowy or freezing conditions. These tools generate light and warmth that can be lifesaving in the worst weather. This winter, keep your workers and the job site as warm as possible to keep moving forward on the project.
1. Supplies Warmth
Cold-weather construction equipment supplies your crews with the warmth they need to keep working at their peak productivity. Keeping your workers warm or giving them a warm place to take breaks helps to prevent frostbite and cold-related illnesses. Warmth on your work site also keeps water and concrete from freezing. The warmth your onsite heaters generate will make it easier to support elevated levels of productivity on your site.
2. Increases Safety
Cold temperatures pose a safety hazard for workers. Frostbite and trenchfoot can severely damage feet and hands. Trenchfoot can even occur at temperatures above freezing when the skin stays wet because the body loses heat from wet skin 25 times faster than dry. Similarly, hypothermia can happen in above-freezing conditions if a person gets wet. Providing your workers with warmth prevents these conditions by making it easier for the body to maintain its temperature.
3. Prevents Productivity Loss
Productivity loss may occur when your workers need more frequent breaks to warm up or if they experience cold-related illness. Work stoppages may also happen if you don't have the right equipment to warm concrete ingredients or thaw the earth for working.
Cold days do not need to be slow days when you have the right tools providing light and heat.
Tips for Keeping Workers Productive in Freezing Temperatures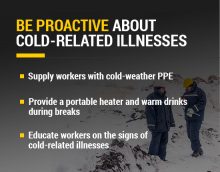 In the winter, your goals must continue to focus on safety as you strive to maintain productivity levels from earlier in the year. Keeping workers safe means knowing when to stop them to prevent cold illness and having the means to warm them if they begin to show cold stress signs.
Watching out for cold illness and protecting your workers from it keeps them healthier and allows you to maintain OSHA compliance by providing safe working conditions.
1. Prevent Cold Illnesses
Warmth is the key to preventing the body from dropping below its average of 98.6 degrees Fahrenheit. While OSHA does not explicitly outline cold illness prevention measures all workplaces should take, providing a safe working environment should still be important to any site supervisor.
Educate workers to understand the conditions that put them at a higher risk of cold-related illnesses. Blood pressure problems, hypothyroidism and diabetes predispose people to develop issues from exposure to the cold. Even in healthy individuals, not dressing warmly, exhaustion, wetness and poor fitness increase the chances of cold illness or stress.
What constitutes "extreme cold," hence putting people at risk for cold stress, depends on the climate. For instance, freezing temperatures in the Florida Keys would be extreme, but the case would not be true of northern Michigan. Extreme cold temperatures are those well below the normal temperature for the area. Listen to your local weather reporter for warnings of such conditions and prepare your workers accordingly.
Check workers before they begin work in the morning to ensure they have adequate clothing for the weather. Do not allow exposed skin in cold, windy or wet weather, as the chances of cold stress increase.

Teach workers to recognize signs of cold-related problems in themselves and others. Supply plenty of breaks and warm drinks to keep your workers from becoming dehydrated. Encourage workers to change into dry socks or gloves at breaks if the ones they have on get wet. Keep a portable heater in the break area to allow workers to warm themselves and get relief from the cold.
New workers, especially those from warmer climates, may not have acclimated themselves to the cold. They may need to take work slowly until they adapt to the weather. Gradually increase the amount of time they spend outside until their times in the cold match those of seasoned workers.
Supply adequate PPE for workers all year, but especially in the cold. If you have a work site in a traffic zone or workers on the ground with heavy equipment driving in the area, provide high-visibility gear, especially if you choose to not set up light towers for extra light. Also, provide heavy work gloves and offer plenty of dry socks on site to prevent frostbite and trench foot.
Even with adequate prevention measures, your workers could still experience cold stress or cold-related illness.
2. Recognize Signs of Cold-Related Illness
Educate yourself and your workers on knowing the signs of a developing cold illness and what to do if it happens. In all instances, workers should stop what they are doing and look for a warm, dry place to recover.
Hypothermia happens as the body loses too much heat to recover. In mild forms, the worker stomps their feet and shivers while staying alert. As the core temperature continues to plummet, the worker starts acting clumsy. They may have trouble using tools, walking or talking to others. This situation requires emergency care. Bring the worker to a dry, heated area and call 911.
Frostbite happens when the tissues freeze from the cold. Often, this happens to the fingers or toes. The skin of the affected area first turns red that later looks white or gray. The person will feel numb, and the skin will be hard and may have blisters. To prevent loss of limbs or digits, cover the affected area and bring the person into a warm, dry place. Wait for medical professionals to rewarm frostbitten areas to prevent extra damage from refreezing.
Trenchfoot is akin to frostbite, but it happens when feet get wet and cold. The moisture causes heat to leave faster, causing a reduction in circulation and tissue death. The feet resemble those of a frostbitten person. Get medical attention as soon as possible.
Because these conditions cause numbness in the affected area or confusion, in the case of hypothermia, the person suffering from the cold may not recognize they have a problem. Train all workers to watch out for signs of cold illness in themselves and others. Instruct workers where to find warming stations to prevent these problems from happening and to recover from mild forms before they progress to medical emergencies.
3. Know When to Stop Workers in Cold Weather
As much as you want to keep your productivity high during the winter, you will still need to know when to tell your workers to take a break or cancel work for the day.
Frigid temperatures or wind chills put your workers in danger of severe cold-related illnesses. For example, with a 20 mph wind, non-emergency outdoor work should stop when temperatures are below minus 25 degrees Fahrenheit. However, as long as workers do not stay outside for more than 30 minutes, they can work for four hours with five breaks in calm conditions with temperatures down to minus 44 degrees Fahrenheit.

For every break, give your workers warm areas to go. Portable electric heaters can turn any interior into a retreat from the cold. Protect the area from drafts and the wind, and have plenty of sweetened, warm drinks available. Workers will use considerable amounts of energy, keeping warm and need the extra calories to fuel their bodies before returning to work outside.
If any worker shows signs of hypothermia, trenchfoot or frostbite, get them medical attention at once. When in doubt, call emergency services to see if the worker needs an ambulance. As an employer, you must keep your workers safe, regardless of the conditions, and sometimes, that means telling them to stop working outside.
Rent High-Quality Equipment to Keep Your Team Productive During the Winter
At MacAllister Rentals, we will help you find the equipment your construction company needs to keep working during the colder months. If you need guidance for choosing the best rental equipment, ask us. We want to help you keep your productivity at its highest levels throughout the year.
You can find us at any of our Michigan or Indiana locations. Because we work where you do, we understand how brutal the winters can be. So, we make sure to have high-quality equipment available when you need to keep working even during the coldest parts of the winter. Contact us for a rental quote or drop by one of our physical locations.