As a growing landscaping business, you know steady work is the key to longevity and success. So your company will benefit from strategizing about how to attract more customers.
To help you, we've compiled this comprehensive guide to getting more landscaping jobs. We'll also explore why having the proper equipment is key to the process, and we'll let you know how to ensure you can get the right models for the job.
Jump to Section:
Why Focus on Getting More Jobs as a Landscaping Company?
Your landscaping company may already have a steady stream of jobs and a few long-term clients. In that case, why should your company invest its time and resources into attracting a slew of new jobs?

Here are a few reasons:
Providing financial security: In some cases, a landscaping company may rely on a single large client for the bulk of its work and revenue. What if something changes in the future, though? The loss of that one main revenue source can slash profits and leave your company facing cash shortages and the prospect of layoffs. Diversifying the client list helps keep revenues flowing in even if a single client leaves. It provides more stability over the long term.
Ensuring consistent work for employees or contractors: Any landscaping company has a strong interest in keeping its workers busy and fulfilled. Attracting more jobs means more and more consistent work for your employees or contractors. If they know they will have steady work, workers feel more engaged and settled. They will be more likely to stay with your company, developing their skills, expertise and relationships.
Developing a prominent reputation: A landscape company with a few trusted clients may do good work, but relatively few people may know about it. The more jobs you take on, the more word-of-mouth advertising you receive. As more clients attest to your excellent work, your reputation for dependability will soar.
Promoting growth: A company that consistently attracts new jobs is well positioned for growth. By growing, you can expand into new niches and pursue chances to shore up your company's financial stability. You can also offer new opportunities to longtime team members, and you can hire new workers with the skills and expertise to enhance your work.
Getting more landscaping jobs is easier said than done. Fortunately, several tested tools and strategies can help boost your chances of success.
Nine Ways to Get More Jobs as a Landscaping Company
Below are nine of the best ways for you to get more landscaping customers.
1. Create Business Signs
One option is to have professional signs made to stick in yards or completed jobs. That way, people going about their business will see your company's name and remember it.

The advantage of business signs is especially powerful if you can place your signs at completed job sites. If the work has gone well, passersby will likely be impressed with the beautiful landscaping. When they see your company's name on the sign, they will begin to connect your name with the quality work. Later, when they need landscaping services, your company is likely to stand out in their minds.
One main benefit of yard signs is their relative unobtrusiveness. Some consumers feel overwhelmed by the volume of active advertisement that bombards them every day. They must contend with incessant commercials, blaring radio ads and promotions popping up on social media and web pages.
Yard signs intrude far less into a consumer's busy day. They are often referred to as "silent salespeople" — they advertise for your business 24 hours a day, 7 days a week, without making aggressive claims on consumers' time and attention.
Yard signs are simple and relatively cost-effective as advertising tools for your landscaping business. Yet they have a powerful, eye-catching impact. They help your business reach out to new clients with a subtle but effective appeal by boosting your visibility in the community.
2. Offer Referral Rewards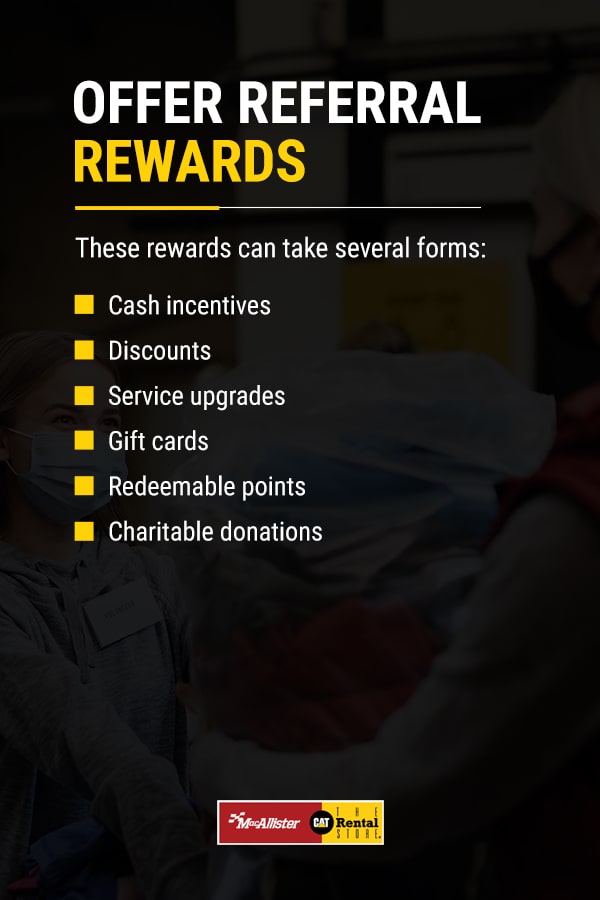 Another way to get more landscaping jobs is to offer incentives for past customers to refer new customers. This word-of-mouth option is often effective for attracting clients who want personal assurances that a company does dependable work.
Your company might structure its referral system to offer existing customers a small reward every time they refer a new client who books services with the company. These rewards can take several forms:
Cash incentives: Most customers appreciate extra cash in their pockets. If your company can offer cash rewards for referrals, those rewards could go a long way toward bringing in new business.
Discounts: Your company might also offer discounted services for client referrals. Customers who refer new clients might receive 10% off their next landscaping services, for instance.
Service upgrades: If it's possible, your company might offer free upgrades for referrals. Customers who refer new clients could receive a free tree trimming with their next lawn-care appointment, for example.
Gift cards: If discounts and upgrades would eat too significantly into your bottom line, you can always select smaller rewards like gift cards for new client referrals. Consider adding a more personal, local touch by choosing gift cards from local businesses.
Redeemable points: These setups are often ideal when the goal is to gain several new client referrals from the same existing customer. When customers refer new clients, they earn points. Those points accrue over time until they reach a certain level. At that point, the customer can redeem them for cash, a discount, a gift card or any other prize.
Charitable donations: Some clients may prefer not to receive rewards for their referrals. They might, though, like to have charitable donations made in their name. In that case, your company could make a small donation to a good cause for every new client referral.
No matter what reward structure you choose, this general strategy helps bring in new jobs by incentivizing word-of-mouth promotion of your landscaping business.
3. Invest in Marketing
A company interested in working with external professionals may choose to invest in marketing to bring in more landscaping jobs. For example, you could consider working with a local SEO company to boost your website and Google Business profile.
Organic searches, or searches that internet users make on their own, drive more than 50% of website traffic. That's more than paid web advertising and social media combined. More than 28% of those users click on the first Google result they see — compared to only 2.5% for the result in the 10th position. So your company's website needs to be able to hold its own among a sea of competing search results.
SEO services fill your website's pages with meticulously researched and thoughtfully crafted content. The new content gives your site the substance and keywords needed to reach customers who are searching on the internet for your services.
A dedicated SEO team might craft sales pages for each of the services your company offers. Or it might develop longer, more informative pages on topics related to landscaping. Either way, the goal is to fill your website with engaging, helpful content, using keywords that help your pages rise to the top of Google search results and reach more people.
4. Power up Your Website
To attract the most jobs, your company should have a professional and informative website. Achieving this goal often starts with SEO best practices. However, it can also mean revamping your website in other ways.

You might consider adding content like this:
Service offerings: If your website does not already list the individual services you offer, this is an excellent place to start. You can create a single page that describes all your services, or you can break them out into separate pages. For instance, you might have one for lawn care and one for tree and shrub trimming.
Past work: A page providing examples of your past work is an excellent addition. It enables potential clients to see the type of landscaping your company can do for them. In this section, consider adding before-and-after photographs to demonstrate the positive effects good landscaping can have on a property.
Customer testimonials: Customer testimonials are essential for a landscaping business. It's easy for a company to make overinflated claims for itself. These same claims often seem more trustworthy when they come from happy customers. Reviews are often compelling to prospective clients because they attest to high customer satisfaction and give a realistic impression of the level of service the new clients will receive.
5. Get Involved in Your Community
More and more, consumers want to know they are working with socially conscious and responsible brands. According to one 2019 survey, 70% of consumers believe companies have a responsibility to make the world a better place.
Even if your landscape company is relatively small, you can still inspire customer loyalty by making a difference in your community. Consider making a company donation to a local nonprofit like an animal shelter. Or volunteer to use your landscaping expertise to improve a local park or public area. When you go, consider having your team wear clearly branded shirts or hats so people will know who is putting in all that hard work.
This strategy may not pay immediate dividends. Over time, though, it can make your business an integral and respected part of the community. It can help you form strong relationships and bring in lasting job partnerships.
6. Provide Comprehensive Employee Training
Be sure to train employees so they are efficient and effective. That way, they can provide faster, better results to boost your company's reputation.
For example, consider offering comprehensive training in your processes and your standards for the work to be completed. Your employees will then have the skills they need to attend to the small details and impress your customers.

Your company's employees likely already have a basic repertoire of landscaping skills. Consider assessing their levels of experience and expertise and then offering training that helps them build on their knowledge base. You might provide instruction for using new types of landscaping equipment, for example.
Your company should also consider extensive safety training for its employees. This training could include topics such as:
The correct personal protective equipment (PPE) to wear for various jobs.
Operating different tools and equipment safely.
Performing certain movements — such as lifting heavy items — to minimize the risk of injury.
Safe, quality work enhances your company's reputation for professionalism and makes customers more likely to call on you.
7. Invest in Quality Equipment
Another excellent way to gain new landscaping customers is to ensure your company has the right tools for the job. Be sure to use new, well-maintained equipment so your company has a professional look.
Outdated or worn-out equipment causes numerous challenges for your company. Most importantly, it presents a safety hazard. Older equipment may not have the safety features necessary to keep your workers from becoming injured on the job. Poor equipment may have loose chains that snap, loose bolts that come undone or dull edges that mean your workers have to apply improper techniques to get results. Any of these scenarios could cause injuries and call your company's reputation for safety into question.

Additionally, using outdated or worn-out equipment may mean your company cannot complete jobs on time. Poor-quality equipment with dull edges or loose parts can make the work take much longer than it should. On the other hand, high-quality improvement boosts the efficiency and quality of your work. It helps you stand out for your superior, dependable landscaping.
New, well-built equipment works quickly and precisely. It helps you provide the crisp lawn edging, precise trimming and powerful digging you need to complete projects your clients will be proud to show off. When there are enough of those projects, word will likely get around very quickly that your company is the one to go to.
8. Ensure You Have the Proper Equipment
For the best results on your jobs, be sure you have the right size equipment and the necessary attachments. You'll minimize delays and ensure your customers get exactly what they want.
Upgrading to gain a diverse set of equipment can be costly. If you don't have what you need, though, you can always rent it. Either way, you'll impress your clients by having every tool necessary for any job.
9. Rent Equipment When Necessary
We recommend your company strongly considers renting equipment rather than buying it. Renting landscaping equipment offers several benefits that can help you achieve growth:
Paying only for what you need: If you buy equipment, you may find that you've incurred a significant expense only to have the equipment sitting much of the time. This scenario is particularly common if you purchase equipment you need only for specialty jobs. When you rent, you pay only when you use the equipment. You can often see substantial savings this way, and you can invest that money into pursuing new clients.
Decreased maintenance: When you buy landscaping equipment, the burden of its maintenance falls to you. If the equipment needs a routine oil change or lubrication, it's up to you to provide it. If it breaks down, you will pay to repair it. The breakdown can also cause significant downtime for your company. With rental equipment, however, the rental company shoulders the cost and responsibility of maintenance. Your company can spend less time tinkering with parts and more time going out on new jobs.
Continual upgrades: Equipment rental companies constantly refresh their inventory with the newest, most powerful and durable models. When you purchase equipment, you might use it for years before buying a new model made financial sense. When you rent, however, you can choose the latest and most exciting equipment. When upgraded models hit the market, your dealer will likely have them available for you right away.
Tremendous inventory: Renting is an affordable, practical option that allows you to have access to a huge selection of equipment. You can choose the exact model you need for a specific job and then return it when you are finished.

Overall, even with rental fees, renting enables you to free up time and money you can then use to promote your business. You pay only when you use the equipment, and you don't incur maintenance costs. You also gain access to a sizable fleet of specialized equipment that can make your team members into pros at just about any job.
How Equipment From MacAllister Rentals Can Help You Get More Landscaping Jobs
Working with MacAllister Rentals gives your landscaping company the tools you need to complete projects efficiently and to a high standard of quality. When you rent from us, you gain access to durable, high-performing pieces of landscaping equipment and landscaping attachments like these:
Aerators
Chippers
Fence post augers
Overseeders
Paver saws
Power seeders
Scarifiers
Sod cutters
Stump grinders
Tillers
Tractors
Vibratory plows
We also offer — or can get — other specialty equipment. If you don't see what you're looking for in our online inventory, feel free to contact us, and we'll be happy to see what we can arrange.
Major brands we offer include the big names like FiNN, Kubota, Wacker Neuson, Toro, Vermeer and Cat® equipment, among many others.

When you team up with us, you also gain the benefit of knowing we're a large, well-established and trusted company. Our friendly, knowledgeable teams have vast industry expertise, so we can help you figure out the right equipment or attachments for just about any project. Our extensive inventory and industry connections also mean we can get you the equipment you need, no matter how tricky the job is.
Best of all, our rental equipment is built to work hard for you. We rent only heavy-duty, dependable equipment that can stand up to the rigors of landscaping work. We also typically offer multiple options for size and power within each equipment type.
In between your rentals, we do all the work for you. We maintain all our equipment in top condition. We perform routine maintenance, and we address minor issues right away, before they develop into catastrophic breakdowns. You'll be free to focus on expanding your landscaping business without spending time or money on maintenance and repairs. We also offer comprehensive service before and after your rental — even during your rental if necessary.
At MacAllister Rentals, we take great pride in maintaining a top-of-the-line fleet for our customers. Our deep industry connections mean we can consistently obtain the newest models to replace the old ones. When you're looking for the latest and best in landscaping equipment, we are delighted to be your one-stop source.
When you're in the landscaping business, your jobs are tough enough without the additional work of searching for the equipment you need. Partnering with MacAllister Rentals means you won't have to. We have the brands you can trust at prices that work for your budget.
Improve Your Landscaping Company's Job Options With MacAllister Rentals
When you're ready to get started with bringing in more work for your landscaping company, let us connect you with the equipment that helps you enhance your job performance and impress customers. With us, you'll be able to attain the growth you need for longevity and success.
Our extensive selection of equipment, unparalleled customer service, and locations throughout Indiana and the lower peninsula of Michigan mean we can always be here to help you meet your equipment needs.
Our many locations make it easy for you to come to a store relatively close to you. We even have our location in Fishers, Indiana, dedicated to landscaping tools and equipment.

Browse our extensive fleet of rental equipment to see what might work best for your company. Then contact us today to learn more about renting equipment for your landscaping jobs.