Professional Tree Trimmers use aerial lifts to reach hard to access branches quickly and safely. However, professional tree trimming equipment can be expensive and requires extensive training to operate responsibly and profitably.

Purchasing an aerial lift for trimming trees can cost tens of thousands of dollars and may be out of reach for many tree trimming companies. One way to avoid the high cost of purchasing is to rent an aerial lift for tree trimming.
Even beyond the cost consideration, there are several other benefits to renting an aerial lift for tree trimming.
Benefits of Renting an Aerial Lift
Renting an aerial lift is often a better option for contractors who need a lift to trim trees, whether it's a one-time pruning project or a longer-term job. Here are considerations to take in when making a decision about renting a lift as opposed to buying one:
Use Frequency — For short periods of a day to a week, it makes little sense to purchase a lift and have no further use for it. Short-term rentals are far more economical than purchase agreements. Long-term rentals also have a good return on investment when you weigh additional factors.
Longer Length of Use — Renting is a preferred option when you need an aerial lift for a project that runs for a few weeks to a few months. Once a contract is complete, you can return the lift to the supplier when it's no longer required.
Financial Position — Renting a lift doesn't tie up valuable cash reserves and allows for better cash flow. Renting has no financing cost like interest, either. In addition, renting has no depreciation penalty and is a tax write-off as an operational cost.
Budgeting Position — The cost of renting a lift can be built into the job estimate and contract provisions. This way it's a known and predictable cost, unlike purchasing a lift that may stand idle after the job is completed.
Equipment Maintenance and Repairs — All repair and maintenance costs are included by the lift supplier in a rental agreement. There are no extra expenses, overheads or surprises. That includes operational downtime when the machine is out of service. When repairs or maintenance is due, the supplier simply replaces it with a fresh lift.

Exchange Flexibility — When job requirements change and a different lift capability is required, a rental lift is returned, and the supplier has the flexibility to offer a unit with smaller or larger capabilities.
Technology Changes — Aerial lifts are evolving with technology, just like other equipment. With a purchased lift, the owner is stuck with dated features, whereas rental selection offers the latest in performance and safety features.
Extensive Choice — Rental lift suppliers stock a wide range of machines and are experts in advising on the right choice and proper application. They're in the professional aerial lift business and know the right machine to deliver the best value.
Eliminate Storage — Purchased lifts require a costly safe and secure storage area when not in constant use. You can simply return rental lifts to the supplier who puts them back on their lot.
If you've chosen to rent an aerial lift, you should keep the following considerations in mind when choosing a unit for your project.
Aerial Lift Types and Applications
There's no such thing as one-size-fits-all in the aerial lift industry. The sizes, reach, weight capability, mobility, stability, power source and variety of attachments as well as safety features vary as much as the application.
Aerial lifts are used in many commercial situations from construction to building maintenance to industrial production facilities. Aerial lifts are designed for indoor and outdoor use, flat surfaces to rough terrain and for a variety of situations that require dexterity in delivering workers and their materials into tight and hazardous situations.
Tree trimming requires virtually all of these design features. Let's look at the types of lifts to see which are the best-suited aerial lifts for different projects:
1. Personnel and Atrium Lifts
Personnel and atrium lifts are small, lightweight machines designed to be used indoors, thus the name "atrium." Although these aerial lifts have significant reach in height and sideways maneuverability, their lifting capacity is limited to one person with minimal tools and material.
Personnel lifts are the most inexpensive of aerial lifts, but their light-duty and compact designs certainly don't make them the best choice for tree trimming.
2. Scissor Lifts
Scissor lifts are extremely popular when workers and materials need vertical raising but only limited horizontal movement. The name "scissor" comes from the cross brace or "X-shaped" frames that hinge and unfold as the working platform rises. Scissor lifts work well on indoor, flat surfaces where a laborer needs direct up and down travel, but some scissor lifts are suitable for outdoor applications where some slope is present.
Scissor lifts are poor choices for tree trimmers, though. Tree trimming laborers require a range in mobility both vertical and horizontal. They need to work around uneven ground, tangles of branches and a range of overhead hazards that are part of the tree trimming environment. Traveling straight up and down in a scissor lift is impractical for trimmers.
3. Telehandler Lifts
Telehandler lifts are similar to forklifts, only on a larger scale. These self-propelled, powerful units are capable of lifting heavy loads and providing a lengthy reach to place or retrieve materials. Telehandlers are controlled by an operator riding inside a cab and generally aren't designed for using buckets or worker platforms to elevate people to perform tasks.
Telehandlers are large machines that don't work well in enclosed spaces like around trees or in dense foliage. They're also expensive machines to buy, rent and operate, making them unsuitable aerial lifts for tree trimming.
3. Boom Lifts
Boom lifts are remarkably versatile machines, making some types the lift of choice for tree trimming. All varieties have three primary components — a base, an arm and a work platform or a bucket-type attachment on the far end.

There are differences in boom lifts, however. Boom types can have vertical, knuckle or telescoping booms that affect the work platform's extension height. This includes whether it is angled horizontally or just lifted vertically, and also the weight capacity the lift is capable of handling.
Boom lifts come in self-propelled units or portable, towed models as well as electric or diesel powered. Larger units naturally require a bigger operating area, where smaller boom lifts are able to fit into tight spaces.
Boom lifts have various attachments. The most common attachment is a work platform or worker bucket that lets the operator safely control the machine from the end of the boom. Lifting hooks and lumber forks are other common options for the boom's service end.
The type of project and the surrounding environment will determine which type of boom lift will be the safest and most effective.
4. Straight Telescopic Boom Lifts
Sometimes called "boom sticks" or "mast booms," telescopic lifts have an arm that extends straight out and adjusts its length depending on the distance from the stability base to the worker bucket. Telescopic boom lifts come in a range of sizes from 40 feet of reach all the way up to 185 feet.
To support a massive reach, especially in horizontal mode, telescopic boom lifts require much wider bases than other more flexible aerial lifts. Most telescopic lifts are expensive and self-propelled, making them large machines. However, smaller versions are available that tow behind trucks or vans.
The size of self-propelled telescopic boom lifts, their price and their limited flexibility make them a distant choice for most tree trimming applications. Towable boom sticks are far more affordable and are gaining popularity and demand from trimmers.
5. Articulating Boom Lifts
Articulating boom lifts are Z-style aerial lifts. When retracted and compacted, articulating boom lifts give maximum flexibility from their small footprint. Z-booms unfold, or articulate, as they are extended, and they give a wide range of maneuverability in vertical or horizontal rotation of the work platform.
Articulating boom lifts are the prime choice for tree trimming services as they allow the arborist to control their workspace into tight, hard-to-reach areas and to cross over or around obstacles and work hazards.
Articulating boom lifts range from three to eight feet wide and are capable of reaching up to 125 feet on larger models. Z-booms have limitations in their horizontal to vertical outreaches. Horizontal reach is only 50 to a maximum of 75 percent of vertical reach. Otherwise, stability of the lift is compromised, and the machine can suddenly overturn.
These Z-booms are particularly suitable for rugged, outdoor terrain where obstacles exist that block other types of lifts. This makes articulating boom lifts popular with tree trimmers, but they have to be aware of this lift's reach limitations.
6. Bucket Trucks
Many professional tree trimming services rent and operate heavy-duty pickup trucks that are equipped with articulating booms with worker buckets. These mobile, self-contained units are versatile in maneuvering and placing trimmers in the right spot to complete required tasks. They also offer safe, reliable platforms for the operators.
Bucket trucks are ideal for detailed tree care tasks requiring a single laborer in close quarters. Some of the tasks a bucket truck works well for are pruning, tree removal and cable installation.
Need access to tree limbs more than 50 feet high? Can't come at your task from directly beneath the branch? A Bucket truck can get you there. Just be aware that for vehicles with a Gross Vehicle Weight Rating over 26,000lbs, you may need a CDL to operate the vehicle.
Bucket trucks are often paired with another vehicle, usually a pickup truck, towing a chipper and carting chips away from the work site. For this reason, some trimmers prefer to use towable aerial lifts.
7. Towable Aerial Lifts
For commercial tree trimming applications, towable aerial lifts have taken a large market share, particularly in the lift rental business. Towable lifts are easy to transport between sites and can be picked up and returned to a rental outlet with a regular truck.
Towable units are less expensive to purchase, so they are also less expensive to rent than other aerial lifts. They're easy to operate, require minimal operation instruction and are exceptionally stable, especially when equipped with outriggers. Towable aerial lifts come in a range of sizes from 10 to 60 feet in boom reach and have compact bases, usually four to six feet wide.
Portable tree trimming lifts are the best mobile option and are ideal for tree trimming jobs that require plenty of movement. Arborists can rent these small but powerful lifts as self-propelled machines or stand-alone units that are set in one spot but easily dragged to another.
Self-propelled towable lifts require a more powerful engine to run their drive system, whereas towable lifts that remain static only require power to operate the hydraulic and mechanical portions of the machine. Smaller, static portable lifts are available with electric energy sources where most self-propelled models have a fossil fuel engine like diesel.
Towable lifts are available with a range of boom options as well as operational attachments. Some towable lifts have simple stick booms, while others have flexible and versatile articulating booms, much like the truck-mounted lifts. Towable aerial lifts are surprisingly strong and flexible for their size. Many are able to handle two or more workers with a full load of trimming equipment and lift them to 60 feet in the tree canopy.
There's a high demand for towable aerial lifts because they are the best option for most tree trimming projects, and their return on investment, whether purchased or rented, is the best for all forms of aerial lifts.
Aerial Lift Safety
Aerial tree trimming is dangerous, as are all occupations requiring working at heights. Safety is paramount when using an aerial lift.
Prior to technology advancements that made aerial lifts the first choice in tree trimming jobs, arborists and lumberjacks climbed trees with their hands and boot spurs, using a waist belt as their safety device. Tree trimmers still do climb trees to prune and top them, but often an aerial lift assists them in climbing. Using spurs and lifts are part of their professional skill sets. Both of these skills require a safety mindset that is non-negotiable with professional trimmers as well as government requirements that regulate the industry.
The United States Department of Labor oversees OSHA, the Occupational Safety and Health Administration that sets standards and policies governing America's workers. One of OSHA's programs oversees the use of aerial lifts including their application for tree trimming.

Every person renting or operating an aerial lift must be aware of OSHA's regulations for the safety and well-being of others nearby. OSHA states that the major cause of injuries and fatalities involving aerial lifts are falls, electrocutions and collapses or tip-overs. OSHA makes a factsheet available that lists these safe work practices for aerial lifts:
Ensure aerial lift workers are trained in the lift's operation
Test the controls and inspect the lift daily
Make sure all controls are clearly marked
Don't override hydraulic, electric or mechanical safety devices
Maintain and operate all lifts according to manufacturer specifications
Stand firmly on the basket floor
Don't climb or sit on the basket edges
Don't use planks, boxes or other items to extend reach outside the basket
Ensure all lift wheels are on a solid base
Set the brakes when not in motion
Chock all wheels before extending the boom
Don't exceed the machine's load limit
Allow for the combined weight of workers, equipment and materials
De-energize and lockout/tagout controls and switches before maintaining
Maintain 10 feet minimum clearance from electrical powerlines
Assume all powerlines are live, including insulated lines
Keep all conductive objects a minimum 10 feet from energy sources
Remember that conductive objects could be wires, transformers, ducts, pipes or other equipment
Establish and clearly mark a ground safety zone around the lift
Mark the zone with tape, cones or have a point person keeping others away
Wear full and proper Personal Protective Equipment (PPE)
Include head safety devices for overhead hazard as part of PPE for aerial lifts
Have Hi-Visibility (HiVis) clothing, hearing and eye protection as part of PPE
Don't move an aerial lift with workers in an extended basket unless the lift is designed to do so
Don't allow workers to position themselves between the boom and overhead hazards
Don't allow workers in a basket to belt or tie off to another structure
Use safety lines to prevent workers from falling out of the basket
Don't operate an aerial lift when impaired by substances, illness or fatigue
MacAllister Machinery takes aerial lift operation and safety seriously. We rent a wide variety of aerial lifts with branches in Indiana and Michigan, and we have a large, knowledgeable sales force who are experts in pairing you with the right lift.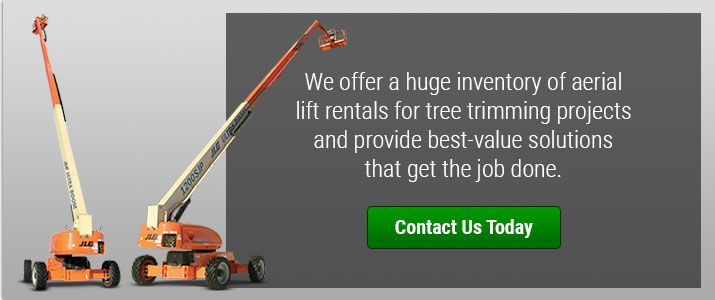 When looking to rent an aerial lift for your tree trimming job, consider the Indiana-based, family-owned business, MacAllister Rentals. We offer a huge inventory of aerial lift rentals for tree trimming projects. We also offer you many aerial lift attachments and options to make your tree trimming project economical, efficient and safe. We provide best-value solutions that get the job done. Contact us today.