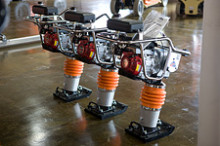 As a Belle Group Dealer, MacAllister Rentals rents some of the very finest light compaction equipment available. We also carry a Multiquip remote control capable pad foot trench roller. Each light compactor provides cost effective, high compaction performance that is based around maximizing the value of your rental. The versatility of the light compactors allows for use in a variety of applications so that all of your project needs are met. Due to our focus on customer safety, we test each piece of equipment for quality so that it will provide the most output while on the job. The professional MacAllister Rental team will work with you to determine what light compactor type and model is best for the needs of your project.
Learn more about Belle Group Compactors
Type
Model
Centrif. Force
(ft/lbs)
Base Size
(WxL)
Eng. Size
(HP)
Wgt
(lbs)
Applications*
Plate Compactor
PCX400
3710
16″ x 28″
4.0
195
GS, SC, A, BP
Plate Compactor
SF460
4046
18″ x 24″
5.5
176
GS, SC
Jumping Jack/Rammer
RT66
3650
13″ x 11″
4.0
145
GS, SC, CC
Reversible Plate
RPC30/50
6748
20″ x 17″
5.5
390
GS, SC, CC, BP
Dbl Drum Smooth Roller
BRW 650
4500
28″ x 95″
6.5
1485
GS, SC, A
Pad Foot Trench Roller
TR34 Buldog
Plate Compactor
WP1550
Jumping Jack/Rammer
BS60
Reversible Plate
BPU3050
Reversible Plate
BPU4045
* Application Codes:
GS = Granular Soil
SC = Sand & Clay
CC = Cohesive Clay
A = Asphalt
BP = Block Paving
Machine specs can vary from model year to model year. Consult the serial plate and/or operators & safety manual for accurate machine specs.